Lifestyles
Tom Crews named Photographer of the Month
Jun 23, 2014
Sherman resident Tom Crews has been named June Photographer of the Month at Hagerman National Wildlife Refuge, and will have a virtual album of twelve photos taken at the Refuge featured on the Friends of Hagerman web gallery, http://www.friendsofhagerman.com/Gallery.
Crews began his journey as a photographer in high school, but has become more serious since the advent of digital photography. He bought his first DSLR in 2005, a whopping 8 megapixel Olympus E-500 and has upgraded several times since, finally settling on his current camera, a 36 megapixel Nikon D800.
Crews is an avid photographer who enjoys many types of photography including landscape, nature and wildlife. He is a frequent visitor to Hagerman National Wildlife Refuge as it has much to offer, from the unique landscape to the wonderful wildlife and foliage. He can often be found hiking the various trails or waiting patiently at one of the many strategically placed bird blinds.
Crews says, "Some people never leave home without their American Express card, I never leave home without my camera."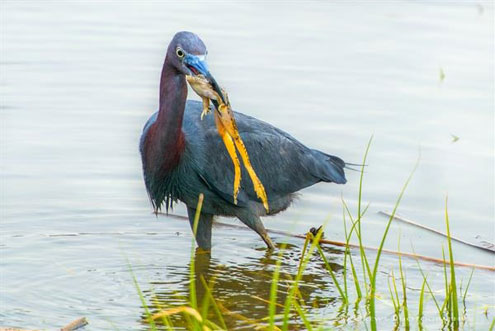 Five Star Lunch - by Tom Crews
Photographer of the Month is just one of the photo programs offered at Hagerman NWR. The Nature Photography Club meets bimonthly and offers additional photo events throughout the year, as well as an annual contest. Contact fohphotoclub@gmail.com for details.