Entertainment
Sherman Community Players present Chicago: The Musical through June 29
Jun 28, 2014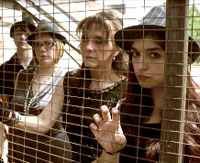 Sherman -- The Sherman Community Players round out their 65th anniversary season with the musical comedy
Chicago
, from the book by Fred Ebb & Bob Fosse based on the play by Maurine Dallas Watkins.
Featuring songs by John Kander and Fred Ebb, this landmark show has been presented on Broadway for over 6,300 performances since it opened in 1996, won six Tony awards, including Best Revival of a Musical.
The original production, directed and choreographed by the legendary Bob Fosse, opened in June of 1975 and was nominated for nine Tony awards.
Chicago is based on a play by the same name written in 1926 by Maurine Dallas Watkins. It tells the story of Roxie Hart, who finds herself on Murder's Row in the Cook County Jail after shooting her lover. Smooth-talking attorney Billy Flynn agrees to take on Roxie's case and manipulates the Chicago press to make Roxie a celebrity. Roxie has a rival for the media's attention, however -- another one of Flynn's client named Velma Kelly.
Chicago is a cynical look at America's celebrity culture and its corrupt judicial system, presented through the highly stylized language of song and dance.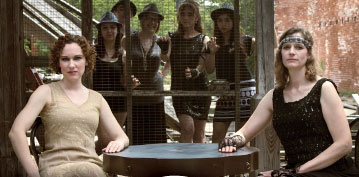 "We picked this show for our big summer musical for a multitude of reasons," explains main stage Artistic Director Anthony Nelson. "First of all, the music in Chicago is just awesome and has really stood the test of time -- songs like 'Cell Block Tango,' 'All That Jazz' and 'Class' are really timeless pieces that I know the audience will truly enjoy. Another reason we picked this show is that I always wanted to put strong female characters on the Finley Stage and what better way to do it then with a production like this one. Finally, it ties in the sixty-fifth anniversary well. Even though SCP was officially founded in the 1950s, the troupe started back in 1926, and having Chicago set in the roaring twenties -- I think it nicely bookends the museum exhibit that we opened at the Sherman Museum at the beginning of the season in September in a clever way."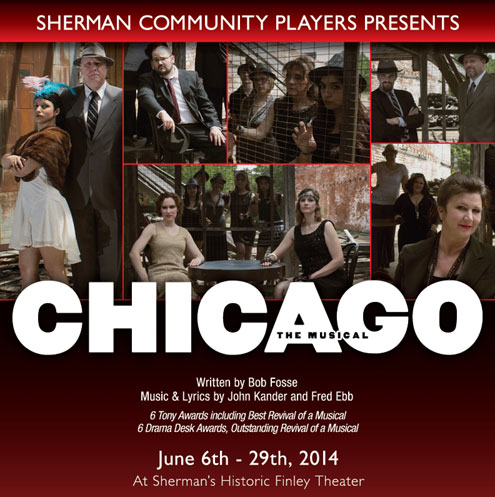 Tickets go on sale beginning the first week of June. You can reserve tickets by calling the SCP Box office at 903-892-8818, you can also purchase tickets during the day at the Honey McGee Playhouse 313 W. Mulberry St., located in the Arts and Culture District of Sherman, next to the Kidd Key Auditorium. SCP is offering a new feature, patrons can email the box office at BoxOffice@SCPtheater.org, and an attendant will respond back with reservation confirmation.
Tickets are $18 for Adults, $10 for students. Every Thursday night is bargain night, and patrons can attend the show for only $10.
The play runs June 5 through June 29, Thursdays thru Saturdays at 7:30 p.m. and Sundays at 2:00 p.m. The Historic Finley Theater is located at 500 N. Elm in Sherman TX, 75090.