Front Page
Russia must de-escalate or risk isolation, Hagel says
May 24, 2014
WASHINGTON, May 23, 2014 - Russia must work to de-escalate tensions along its border with Ukraine, Defense Secretary Chuck Hagel said on PBS's Charlie Rose Show Thursday night.
Hagel said there is some evidence that Russia is making a "minor movement" away from the eastern and southern borders of Ukraine, but nothing significant.
Russia still has about 40,000 troops near the border.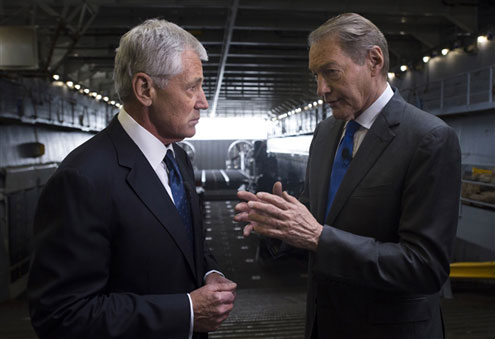 Defense Secretary Chuck Hagel, left, talks with PBS interviewer Charlie Rose aboard the amphibious dock landing ship USS Oak Hill in New York City, May 22, 2014. Hagel later received the 2014 Intrepid Freedom Award at the Intrepid Sea, Air and Space Museum. DOD photo by U.S. Marine Corps Sgt. Aaron Hostutler
Hagel pointed to defensive moves NATO has made in response to Russia's annexation of Crimea and threats to the rest of Ukraine. The 28 NATO nations have added aircraft to the Baltic Air Policing mission. NATO airborne warning and control aircraft are operating over Poland and Romania. NATO ships are operating in the Baltic Sea and the Black Sea. And NATO has bulked up the exercise program in Eastern Europe -- specifically in the Baltic Republics and Poland.
These moves have reassured the eastern NATO allies. But Ukraine is not a member of NATO -- it is a partner. "We are helping the Ukrainians," Hagel said. "We are complying with many other requests. We are trying to find a diplomatic solution to this. President Obama said there won't be -- can't be -- a military solution to this."
Russian President Vladimir Putin is isolating his country, Hagel said. "How many countries around the world are supporting what the Russians are doing? Not many," the secretary said. "We had a vote in the last few weeks here at the United Nations on this issue in the general assembly and I don't know if they got 10 votes."
Russia's actions in Ukraine have galvanized the countries of Europe, which are now are demonstrating a solidarity not seen since the fall of the Soviet Union, he said.
"If you want to align yourself with a totalitarian government, if that's where you think your future is on any issue, that's certainly the Russians' option," Hagel said. "But I think the world is going in a different direction. The world is going toward more freedom, more options, more rights, and more democracy."
(Follow Jim Garamone on Twitter: @garamoneAFPS)