Lifestyles
Military free at Hawaiian Falls on Memorial Day
May 26, 2014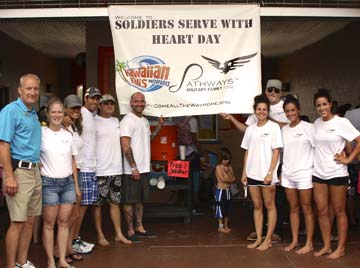 Soldiers Serve with Heart and Pathways Military Family Fund at Hawaiian Falls Waco last Memoiral Day
Hawaiian Falls will offer free admission to all active duty military personnel at its water parks in Garland, The Colony, Mansfield, Roanoke and Waco from 10:30 a.m. – 6 p.m. on Memorial Day, Monday, May 26. All immediate family members can purchase their day pass for a discounted price of $19.99.
"We're so thankful to the brave men and women who willingly give up so much of their freedoms to protect ours," said Hawaiian Falls CEO David Busch. "Because of their service and sacrifices, we enjoy a fun summer with family and friends. We're grateful to provide them a day to just relax relax and have fun at our water parks."
To participate, individuals just need to show a valid military ID at the ticket window. This free admission applies to one individual admission for an active duty military member on May 26, 2014 only and cannot be combined with any other offers.
"Since our Pflugerville and White Settlement parks will not quite be ready by Memorial Day, we'll make the same offer available for these two parks on July 4th."
Celebrating more than a decade of bringing families closer together, Hawaiian Falls waterparks in Garland, The Colony, Mansfield, Roanoke and Waco open Saturday, May 24th to the public for the 2014 summer season. The first Adventure Park – Water Park – Aloha Event Center combinations are nearing completion in Pflugerville and White Settlement. More info at hfalls.com or facebook.com/hfalls.