Front Page
Memorial Day Ceremony at Ridgeview Memorial Park
May 20, 2014
Allen, Texas -- On Memorial Day, May 26, 2014, 1:00 p.m. at Ridgeview Memorial Park, 2525 Central Expressway N, Allen, veterans from Collin County Freedom Fighters, McKinney VFW Lone Star Post 2150, and the staff at Turrentine-Jackson-Morrow, will host their annual ceremony to honor the men and women of America's Armed Forces. Boy Scout Troop 2150 will also join in.
Memorial Day first began as a special day to honor those who had been lost in combat; today we honor all veterans who honorably served and have since passed on.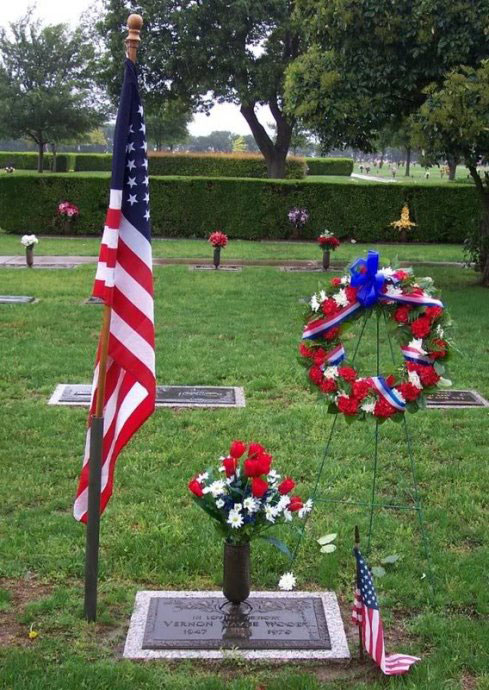 Ridgeview Memorial Park gravesite of Vernon Wayne Woody, killed in Vietnam.
Special recognition will be given to the two Sailors, two Soldiers, one Airman, and five Marines, buried at Ridgeview who died during the wars in Vietnam and Iraq.
Program:
MEMORIAL DAY
Ridgeview Memorial Park
Hwy. 75, between McKinney and Allen
May 26, 2014, 1:00 p.m.
Master of Ceremonies - JIM NICHOLS, US Air Force, Commander, VFW Post 2150
Opening Prayer - RAY RICHARDSON, VFW Post 2150
Keynote Address - Lt. Col. SHAWN M. KEEFE, US Marine Corps
Following in the footsteps of his father and older brother, Shawn Keefe joined the United States Marine Corps out of high school. Trained in Reconnaissance he went on to earn a college degree and a commission as a 2nd Lieutenant. While serving in numerous locations around the world, Shawn steadily moved up in rank, fulfilling the duties from Commanding Officer to Training Officer at parachute and scuba schools. He retired as a Lieutenant Colonel in 1998, but in 2004 was ordered back to active duty, his expertise greatly needed for the War on Terror, especially for the Battles of Najaf and Fallujah, Iraq. In July of 2005 Colonel Keefe returned to Texas and retirement again; however, he was called back to active duty in 2007 and assigned to Central Command, supporting actions in Iraq and Afghanistan. During his illustrious career as a United States Marine, Lt. Col. Shawn M. Keefe has been awarded a whole host of medals and ribbons, including the Combat Action Ribbon and five Meritorious Service Medals. Retired again in 2010, he currently resides on his ranch near Melissa.
Reading of the Names - RD FOSTER - USMC, Vietnam Veteran
"Taps" - DALE LITTRELL
Special recognition will be given to the ten young men buried at Ridgeview who gave their lives in the service of our country during the wars in Vietnam and Iraq:
Seaman 1st Class TOMMY WAYNE HARRIS, 20, US Navy, 14 May, 1965
Corporal DARRELL "GEORGE" MAHAN, 20, USMC, 19 August, 1967
PFC THOMAS B. HOLDBROOKS, 19, USMC, 28 December, 1967
Corporal CHARLES W. "BILL" BRYAN, 20, USMC, 20 January, 1968
Seaman PAUL GORDON LUNA, 18, US Navy, 8 September, 1969
Captain RICHARD MICHAEL RYAN, 24, USAF, 20 September, 1969
Specialist 4th Class VERNON WAYNE WOODY, 22, Army, 30 January 1970
Specialist 5th Class MARTIN LEROY RODGERS, 18, Army, 26 July 1970
Corporal TYLER SETH TROVILLION, 23, USMC, 15 June, 2005
Lance/Corporal JACOB D. HAYES, 24, USMC, 17 December, 2008