Front Page
2014 Denison Memorial Day Parade slated May 26
May 26, 2014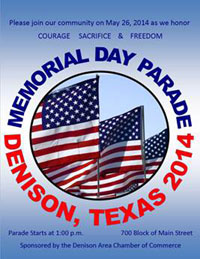 Denison -- The Denison 2014 Memorial Day Parade will be on Monday, May 26, 2014 at 1:00 p.m. Parade lineup will begin at 12:00 p.m. This year's parade will follow the same route as in past years. It will begin at the Crawford and Armstrong intersection then go north to Main turn east to Rusk and then turn south to Crawford then travel west-back to starting positions.

The theme for the parade is Courage, Sacrifice, Freedom. Parade entries will be judged on how best this theme is depicted using several criteria. Prize money will be awarded to Grand Prize(Best of Parade), First Place, Second Place, Car/Motorcycle Club & Equestrian Group.

This Parade is sponsored by the Denison Chamber of Commerce at 313 W. Woodard, Denison, Texas 75020 - Please call the Chamber at 903-465-1551 for more information or go to www.DenisonTexas.us for registration form.