Lifestyles
'Palliative Care - Understanding What it is and What it can do for you!'
May 23, 2014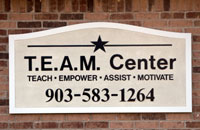 JoCarolyn Chambers, licensed clinical social worker and Pathways Palliative Care coordinator for Home Hospice of Grayson, Cooke & Fannin Counties, will present "Understanding what Palliative Care is"…at 2:00 p.m. on Wednesday, May 28, at the monthly Fannin Partners in Education (F-PIE) presentation. The program will be held at the TEAM Center, which is located at 806 West 16th Street in Bonham. The event is free and open to the public, and complimentary pie from Cappy's Café will be served.

Chambers will explore the meaning of the term "palliative care" in the context of today's complex healthcare environment. Is palliative care available to you or someone you love? What services are included? Where is it provided and what can the professionals involved help you do? How might it benefit your family?

" More and more people find themselves frustrated and at a complete loss when dealing with the complexity of the medical system. Our Pathways program provides guidance, support and education-to individuals and their families who are dealing with serious medical issues."

The presentation is brought to you by Fannin Partners in Education, which is a cooperation of local agencies including Home Hospice of Grayson, Cooke, and Fannin Counties, Area Agency on Aging (TCOG), Clyde W. Cosper Texas State Veterans Home, AgriLife Extension office, and Texoma Housing Partners. Please make plans to attend this informative presentation on Wednesday, May 28. For more information, call Home Hospice at 903.868.9315.