Front Page
Mother's Day on the Grounds of Willow Wild
May 13, 2014
Sunshine, barbecue and music. A moving tribute to a local hero. The company of friends on a fine spring day.

Mother's Day on the Grounds, the third annual homecoming event hosted by Willow Wild Cemetery Association last Saturday, May 10, began at noon, as guests gathered before the flag near the entrance. Bonham's VFW Post 4852 had come to Willow Wild to re-dedicate the flagpole to the memory of Bonham native 1st Lt. James E Bragg, a highly decorated pilot in the U.S Air Force during World War II. Several members of his family were in attendance.
VFW member Lloyd Dodson greeted the crowd, then stood at attention as the flag was unfurled and slowly raised to full mast. The ceremony closed with a recitation of The Pledge of Allegiance.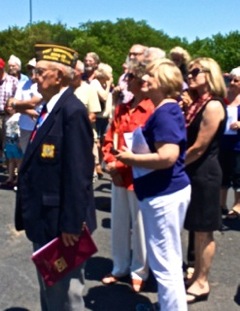 Lloyd Dodson gave the opening remarks. Behind him are several members of 1st Lt. Bragg's family.

Provided by and installed by Post 4852, the flagpole stands as a proud memorial to the many war veterans who lie at Willow Wild.

Guests then moved toward the pavilion, where tables filled with pecan-smoked brisket and potluck side dishes had been set up. Conversation flowed as people began to recognize one old friend and then another, and everyone sat down to eat—on lawn chairs they'd brought from home. Encompassing several generations of current and former Bonham residents, the crowd ranged in age from 9 months to 90 and up.

After dinner, Association Treasurer Parker McComas presented a summation of Willow Wild's annual financial report, noting that donations have thus far met expenses, the largest expense being the twice-monthly mowing necessary in warm months. Another recent expenditure was a thorough tree trimming throughout the grounds. Future concerns center around the roadways, which have deteriorated and are in urgent need of repair. Willow Wild is supported almost entirely by private donations. Parker pointed out that income from cemetery operations covers only a small fraction of the annual budget.

Association President Charlotte Watson then stood to recognize some Very Special Friends of Willow Wild. The extraordinary service of outgoing board members Cindy Baker Burnett, Cathy Denton Taylor, Susan Meade Bennett and Carol Hogue Beck was noted.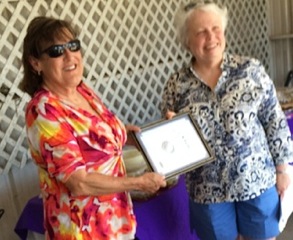 (L-R) Out-going board member Cathy Denton Taylor and President Charlotte Watson.
She formally thanked Bill Terry and his legal assistant, Pam Thompson, for their many hours of work toward bringing the new Association into being and their diligent counsel.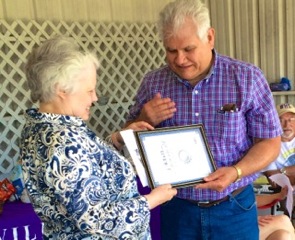 Charlotte Watson and Bill Terry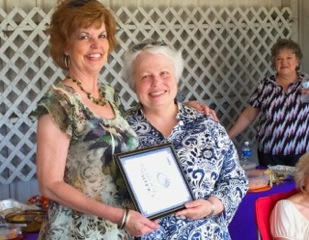 (L-R) Pam Thompson and Charlotte Watson
For their many decades of service as stewards of Willow Wild, dating to its beginnings in 1878, Charlotte expressed gratitude to Masonic Lodge Constantine 13, Grand Masonic Lodge of Texas, Grand IOOF Lodge, Wildey IOOF Lodge,
and to the Willow Wild Cemetery Commission.

In a heart-felt expression of thankfulness, the board named Carolyn Lawrence its Distinguished Volunteer of the Year. Carolyn, as Volunteer Service Manager, devotes much of her personal time and energy to the tending and keeping of Willow Wild. Her commitment to community service is exemplary.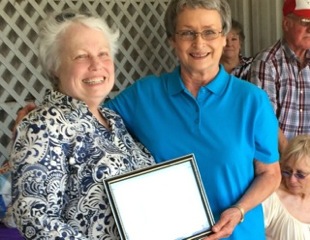 (L-R) Charlotte Watson and Volunteer of the Year, Carolyn Lawrence

The day ended with music. Lynne Dismang Sterling's bluesy voice, backed by Jim Adams on acoustic guitar, drifted over the grounds. Gathering up lawn chairs and empty casseroles, the crowd slowly dispersed, taking its leaving amid fond shouts of farewell.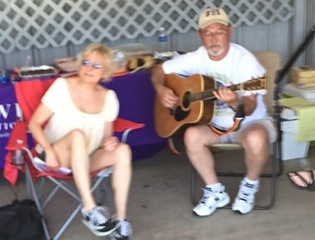 Lynne Dismang Sterlin, in from Eureka Springs, and Jim Adams.
Donations may by mailed to: Willow Wild Cemetery Association, Inc., P.O. Box 159, Bonham, TX 75418. You may also make a donation via Paypal at
willow wild.org
.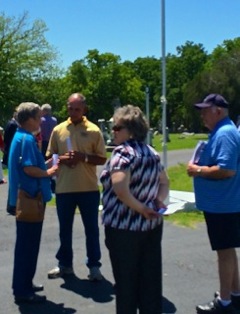 Carolyn Lawrence, T. Moore and Linda Dudley.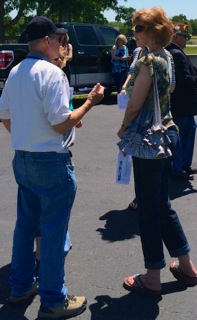 Pam Thompson.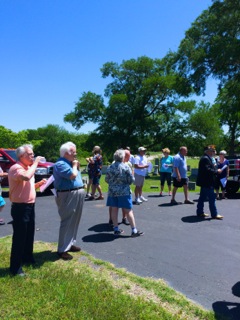 Blues skies. Perfect weather.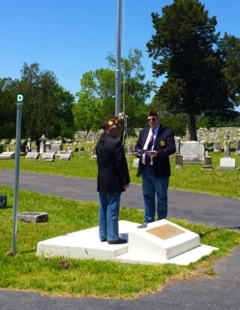 VFW members stand ready to hoist the flag.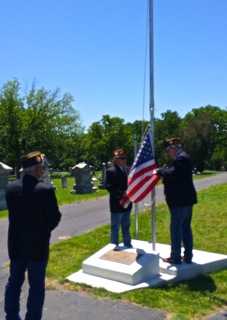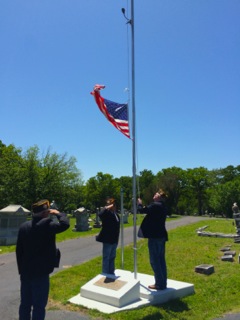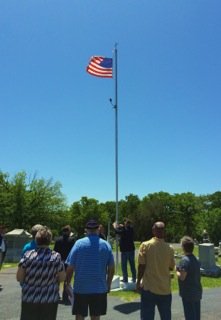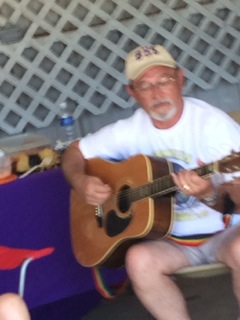 Jim Adams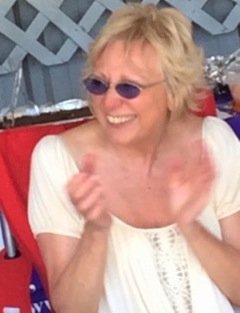 Lynne Dismang Sterlin