Local News
Available child and adolescent mental health services
Aug 17, 2014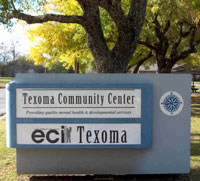 At times parents are faced with serious behavioral problems from their children and do not know where to turn for help. Texoma Community Center (TCC) has mental health services for children and adolescents in Cooke, Fannin, and Grayson counties.

Tim Sneed, Child and Adolescent Fidelity Manager states, "We serve around 150 kids who range in age from three years to seventeen years of age in the three counties. The most common problems we see are disruptive, impulse control disorders such as oppositional defiant disorder; as well as, disorders of Attention Deficit Hyperactivity Disorder (ADHD), trauma and stress related disorders including post-traumatic stress disorder (PTSD) and adjustment disorders; and anxiety and depressive disorders. We serve the children individually, the family, and have group sessions."

A wide variety of services are offered including medication management through tele-medicine, case management, behavioral skills training and development, counseling for children and parents, Wraparound, crisis intervention, and family partner coordination. Children can be referred to services by many different avenues such as parents, teachers, schools, community organizations, private counselors, doctors, acute care hospitals, state hospitals, Texas Juvenile Justice Department, or the state youth center.

"The in-take process in a non-crisis situation is typically done in two-steps, although, crisis intervention services are available on a more immediate basis. When accessing services, the first step is a clinical interview that will include most of the paperwork, a medical and mental health background history, and covering informed consent. This is when we explain all the services that we offer as well. The second step is completing the clinical assessment and developing a treatment plan. The child isthen assigned to a case manager. Children will need our services for different lengths of time, and the treatment plan is revised to meet those needs as the child progresses. A number of the children may need mental health services into adulthood," continues Sneed.

The case manager is responsible for connecting the child with the services they need here and in the community. A child will need certain behavioral skills training from a Qualified Mental Health Professional in such areas as anger management, pro-social skills, and coping skills. The children will be learning skills to become able to function in social settings such as using basic conversation, sharing, listening, negotiating, as well as, other social interactions.Older children may learn skills that young adults will need including money management, budgeting, job search, and interviewing. Children and their families may receive individual counseling or family counseling. Parents may also receive basic parenting instruction. In anger management or replacement, an evidence based 10 step curriculum program is used.Play therapy is conducted with young children. Cognitive Behavioral Therapy is used with adolescents and teens.

Parents and others who interact with children on a daily basis need to recognize some signs and symptoms of children with anxiety and depression. Children with anxiety may be fearful, worry, ruminate, obsess, be compulsive, impulsive, shake, not speak in social situations, sweat, become dizzy, freeze, havetantrums, cling, or cry. These behaviors will seem out of proportion with the situation. Depression may include depressed mood, loss of interest or pleasure, significant weight gain or loss, insomnia or hypersomnia, fatigue, loss of energy, feeling worthless, recurrent thoughts of death or suicide ideation, plan, or attempts. In children and adolescents, irritable mood may be part of the depression as well. Children with these symptoms need professional help immediately.

For help contact Child and Adolescent services in Cooke County at 319 North Dixon, Gainesville-940-665-3962; Fannin,County at 1221 East 6th Street, Bonham-903-583-8583; and Grayson County, 315 West McLain Drive, Sherman-903-957-4820. A 24-hour/7 day a week crisis line is available at 1-877-277-2226.