Lifestyles
Handcrafted Autism Awareness soaps to benefit Early Childhood Intervention-Texoma (ECI)
May 28, 2014
Gina Woolsey was looking for a way to help promote awareness of children with autism and help an organization that works with children birth to 36 months of age, Early Childhood Intervention-Texoma (ECI). Woolsey owns and operates Pamper U by Gina. She is selling handcrafted Autism Awareness soaps and plans to donate $1 from every bar sold directly to ECI.
Every bar of soap is unique and has a puzzle piece embedded in the center. Beginning in April she will also be offering All Natural Autism Awareness Soaps that will be fragrance and colorant free. These soaps will have five puzzle pieces and be bagged in an adorable damask bag. Woolsey felt that it is important to give back to the community through her business and with Autism Awareness being so near and dear to heart, it was a perfect fit.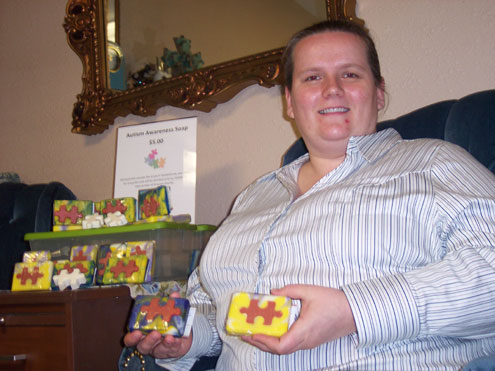 Gina Woolsey will donate to Early Childhood Intervention when she sells the All Natural Autism Awareness Soaps.
Soaps can be purchased online through Pamper U By Gina Facebook page (www.facebook.com/PamperUByGina) or at her shop located at 27161 State Hwy 56 in Whitesboro.
ECIís mission is to support families of children by providing or helping access services that support family choice and promote independence within the context of the familyís natural environment and daily routines. The program is designed to encourage and assist parents with an infant or a child who appears to be slow in development or who has organic deficiency and/or medical conditions that usually result in developmental delay. Early Intervention is the most effective strategy to enable the child to live as a functional adult and is the most cost-effective time. This intervention helps avoid more extensive and expensive intervention as the child progresses through the school system and later in life. For more information on services or referrals, call: 903-957-4810.