Front Page
Community joins together to raise funds for family after tragedy
May 25, 2014
RICHARDSON, TX – Jesse Coody, 45, of Richardson was a lifelong bodybuilder. His life was cut short on March 28, 2014, when Coody was killed by a wreckless driver on his way to work. Coody's medical bills exceeded his insurance coverage and local residents are joining together to help raise funds for the family and encourage blood donations to replenish the 50 plus units of blood used following the accident and not covered by insurance.
A blood drive and event, #JESSESTRONG, is scheduled for Friday, May 30 from 1 p.m. – 7 p.m. in Wyndsor Park, located behind Miller Elementary, at 5651 Coventry Drive in Richardson. In addition to the Carter BloodCare Mobile, there will be food, games and t-shirts, with all proceeds benefiting the Coody family.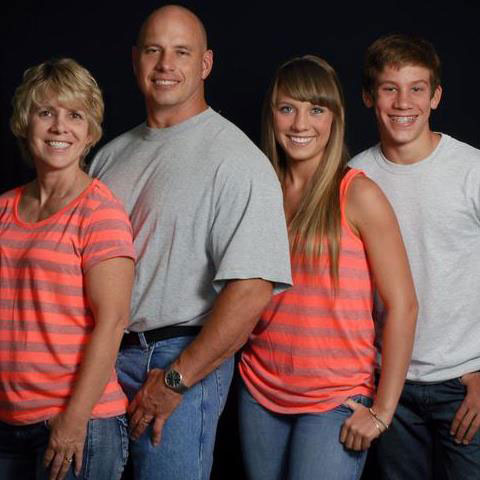 Lisa, Jesse, Paige and Jace Coody
Coody moved to Murphy in 1977 with his parents, Jim and Martha Coody. While a student at Plano East Senior High School (PESH), Coody was a star athlete as a running back on the football team. He also started competing in bodybuilding and power lifting.
Following his 1986 graduation from PESH, he attended Texas Tech University, where he ranked fifth in the nation in power lifting and earned the title of "Mr. Texas Tech" in 1988. While training and working at the Texas Tech recreational center, he met Lisa Hale. They married May 13, 1989, and would have celebrated their 25th anniversary this year.
In 1989, the couple moved to Murphy. Jesse graduated from The University of Texas at Dallas in 1991 with a Business degree. He worked as a manager for GEICO Insurance for 23 years.
Lisa and Jesse have two children: Paige, a sophomore at Oklahoma State University; and Jace a sophomore at McMillen High School.
The family says they most miss his infectious laugh and his knowledge of all things big or small that he would share. He taught them to always strive to do their best, and finish what they started. He often said, "never be too proud to ask for help when you need it."
The Coody family has not had to ask for assistance, as the community is taking good care of the family in their time of heartache.
Friends are posting photos of themselves flexing their muscles on social media with the hashtag #JesseStrong to honor Coody and show support for the family. The #JesseStrong event is a reminder of Coody's physical strength, but also to honor his strength of character.
To schedule an appointment to donate blood, visit http://tinyurl.com/JesseStrong. All donors must provide a personal photo identification and be at least 16 years of age and in good general health. Sixteen-year-olds must have written parental consent. Donors are asked to eat a low-fat meal within two to four hours before giving and drink lots of water or juice before and after donating.
Donations to help the Coody family cover medical expenses can be made payable to "The Family of Jesse Coody" and mailed to: Kevin Ryan, Merit Energy Company, 13727 Noel Rd. #1200, Dallas, TX 75240.