Front Page
May is Mental Health Awareness Month
May 10, 2014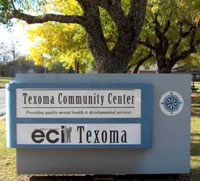 May is Mental Health Awareness Month across the nation. This month has been celebrated since 1949. The theme for 2014 is Mind Your Health. Texoma Community Center is raising awareness of the role mental health plays in our lives and providing tips and resources so anyone can take steps to promote good mental health.

Mental health and physical health go hand and hand. Everyone wants a healthy body free from illness and disease. Many individuals practice healthy lifestyles most of the time. But many of us do not take much thought for our mental health. Overall health and wellness are not possible without good mental health.

What is mental health? Simply stated good mental health is the ability to cope with everyday life and the challenges that come our way. Most people have stress in their lives on a daily basis. There are healthy ways to deal with stress such as eating healthy foods, exercising, getting adequate sleep, socializing with friends and family, and doing enjoyable activities.

Poor mental health can also harm a personís physical health. People who do not handle stress in proper ways may have high blood pressure, heart disease, and obesity. People who feel depressed or chronically stressed are at greater risk of physical illnesses as shown by research. A healthy lifestyle can also help prevent the onset or worsening of depression, anxiety, and other mental health conditions. Fully embracing the concept of wellness not only improves health of the mind, body and spirit, but also maximizes oneís potential to lead a full and productive life.

Roughly one in five Americans have a mental health condition. One in four families have a family member who has a mental illness. Mental illnesses are extremely treatable. Mental illness is not carrying as much stigma as in earlier times. More and more people are accepting others with mental illness and supporting them. Individuals with mental illness who have support accomplish better results in getting healthier than those who do not have support. Many people are receiving education about mental illness, and education helps to eliminate fear of the unknown.

Help for mental health problems is available in Cooke, Fannin, and Grayson counties through Texoma Community Center. Services have been provided in since 1974. For 24-hour crisis services, call 1-877-277-2226. Mental health centers are located in each county: Cooke Mental Health Center, 319 West Dixon, Gainesville, 940-665-3962; Fannin Mental Health Center, 1221 East 6th Street, Bonham, 903-583-8583; Grayson Mental Health Center, 315 West McLain, Sherman, 903-957-4701; Child and Adolescent Mental Health Services, 315 West McLain, Sherman, 903-357-4820; Crisis Line, 1-877-277-2226.