Lifestyles
Sherman Community Players announce casting finalized for Chicago
May 23, 2014
Book by: Fred Ebb & Bob Fosse
Music by: John Kander
Lyrics by Fred Ebb
Directed by Anthony Nelson
Music Director: Dan Dominick
Choreography by: Anthony Willis
Casting has been finalized for the final production of the Sherman Community Players historic 65th anniversary season.
"We held auditions a bit early for this particular musical, so we could get the cast into dance workshops, conducted by our Choreographer Anthony Willis -- a newcomer to the SCP family," mentions Artistic Director, Anthony Nelson. " As matter of fact, SCP audiences are going to see a lot of new faces with the final production of the season. We have local talent, talent from the metro-plex, talent from McKinney and Durant. The word is getting out about SCP, and the talent wants to be here."
Rounding out the principles for Chicago are Laura Renfro as "Roxie Hart," Teresa Andrion as "Velma Kelly," Fred Freeman as the notorious smooth talking lawyer "Billy Flynn," Travis Lyons as "Amos," Roxie's gullible husband, Kari Kennedy Flowers as "Mama Morton," Justin Rowe as "Mary Sunshine," and Ed Richardson as "Sgt. Fogarty."
"What's really exciting about this project is the fact we are putting on a real dance show at the Finley Theater, and I think it's something the audiences will be thoroughly impressed with," says Nelson.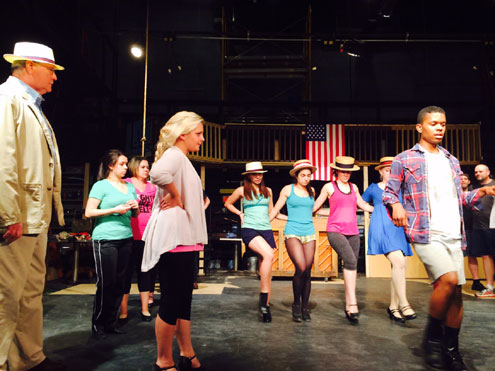 (L-R) Fred Freeman, Marissa Bateman, Crystal Klingston, Laura Renfro, Jenni Kraft, Kaitlyn Casmedes, Megan McCullough, Lori Brin, Anthony Willis (Choreographer) Ed Richardson, and Paul Jordan.
The extremely talented dance ensemble consists of Kaitlyn Casmedes, Megan McCullough, Jenny Kraft, Laurie Cutler, Marissa Bateman, Heidi Scheibmeir, Laura Fanning, Jessica Huffstetter, and Lori Brin.
Rounding out the ensemble are Jordan Jaska, Lacey Wesson, Jim Smith, Kate Graham, Crystal Kingston, David Griffith, Paul Jordan, Donna Morgan and Tanner Smith.
"Not only is there first-class talent on the stage, but also behind the scenes as well," adds Nelson. "We are very lucky to have Dan Dominick of the Sherman Symphony Orchestra serving as our Music Director and Aaron Adair serving as vocal coach. Tina Ross is designing the 1920 circa costumes and Marty Burkhart and Stephanie Schultz are stage managing. Austin College Theatre professor Liz Banks is designing the set -- and we are very excited about her involvement. With this production, I want the audience to see just how big the Finley Theatre is, so we are not covering up the backstage area like we normally do. I want the audience to see the scope of what this historic theatre has to offer right here in the heart Sherman.'
Chicago: The Musical is based on a play of the same name written about two Vaudeville performers who ended up on death row back in the twenties. It was turned into a musical conceived by Bob Fosse, John Kander, and Fred Ebb in the mid seventies and then revived again on Boardway in the nineties. It was also recently adapted into a film starring Katherine Zeta Jones and Renee Zellweger.
Tickets will go on sale beginning the first week of June, and the show opens June 6th and runs the entire month of June, Thursday through Sunday. All relevant show information can be found by visiting www.scptheater.org.