Front Page
Dog owners converge on Denison for Bark & Paws
May 5, 2014
Denison -- Dog owners converged on downtown Denison Saturday, May 3 for this city's annual Bark & Paws event.
Heritage Park was a howling good time as dogs were registered (the first 100 received a gift), attended the Blessing of the Dogs and then enjoyed friendly competition.
The always unpredictable Weenie Dog Races set the tone for the day, followed by Obstacle Course Competition, and the Retriever Contest.
Then it was time for fun a photos as the popular Dog Parade got underway with a western theme of "Giddy-Up Little Doggie." The dog owners were even allowed to enter the parade contest if the owners dressed up like a movie sidekick of their dog's costume.
Bark & Paws also featured a live auction of dog-related merchandise and the proceeds will go towards a bite suit to assist in the training of Denison Police Department's drug dog.
The winner of Best of Show was Kolbie Jac, a nine-year-old Australian shepherd owned by Cassandra Cove of Gainesville, Texas.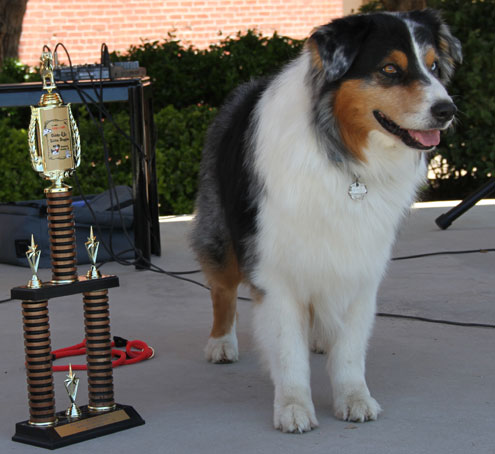 Kolbie Jac - photo by Donna Dow, Manager, Denison Main Street