Front Page
Excitement builds in Bonham for Heritage Day Celebration May 3
May 3, 2014
Bonham -- The ramps will be installed Friday night and the high-flying stunt riders of Maneuver Motorsports will be sailing through the air in historic downtown Bonham beginning at 9:00 a.m. Saturday as part of the Heritage Day Celebration festivities.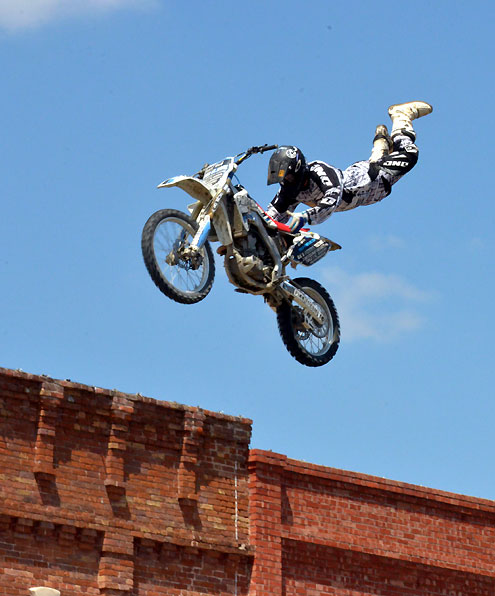 The fun begins bright and early as registration for the Car & Truck Show, registration for the Kid's Car Show and the Motorcycle Fun Run get underway.
Sons of Confederate Veterans will stage Wild West Shootouts at various times throughout the day, as well as giving Frontier Living demonstrations at Fort Inglish Village.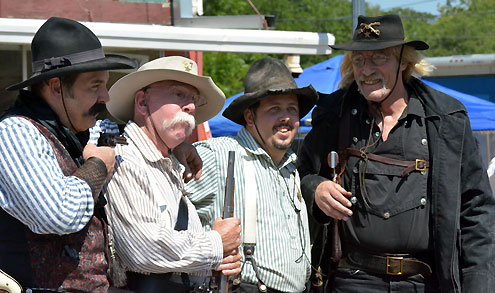 Music is always an important part of Heritage Day and the main stage, located on the northwest corner of the Bonham Square, will be the place to catch all the entertainers. The pace picks up at 4:30 p.m. when Colton Gilbreath takes the stage, followed by Gary Hamilton at 5:30 and headliner Mark Glasmire at 7:00 p.m.
8th Heritage Day Celebration Saturday, May 3, 2014 8:30 a.m. -10:00 p.m. in historic downtown Bonham, Texas
8:00 a.m. Registration: Car/Truck Show 300 block N. Main St. sponsors American Bank of Texas & Utter Family-Ford, Lincoln, Kia 2pm awards presented on Main stage
8:00 a.m. Registration: Kids Car Show, 6 & under 407 N. Main sponsor Utter Family Dealers
8:00 a.m. Motorcycle Fun Run – registration Southeast corner of Fannin County Courthouse, awards when ride completed
8:30 a.m. - 10:00 a.m. Bonham Community Band - Main stage
8:50 a.m. Welcome - Bonham City Manager Bill Shipp - Main stage
8:55 a.m. Flag Ceremony - Boy Scout Troop - Main stage
9:00 a.m., Noon, 2:00 p.m., Maneuver Motorsports; jumps, Monster Truck – West 5th St. -- Sponsored by Bonham Chrysler
9:45 a.m., various times - Sons of Confederate Veterans Re-enactors-downtown
10:00 a.m. The Dallas Cowboys Mascot "Rowdy" – Main stage –sponsor Sanitation Solutions
12:30 p.m. Norman Young – Historical skit
1:00 p.m. Fannin County Fire Depts. Rodeo – East side of courthouse
1:00 p.m. - 4:00 p.m. Burton Gilliam at the Bonham Chrysler booth – west side of courthouse
1:00 p.m. – 5:00 p.m. Wine Tasting, Host Homestead Winery – Main stage area
2:00 p.m. KFYN/Music – Main stage
3:00 p.m. Garden Tractor Pulls – 100 West First St. location 1st at Main St
4:00 p.m. Bonham Drum Circle - Music – Main Stage
5:00 p.m. Music - Main stage
5:30 p.m. Music – Gary Hamilton, local singer, songwriter - Main stage
7:00 p.m. Music - Mark Glasmire, award-winning singer, songwriter - Main stage
Other events: Sons of Conf. Veterans Village-Hwy 56 & 121
Creative Arts Center -- Sam Rayburn Library, W 5th St -- Sam Rayburn House, Hwy 56 W -- Red River Military Vehicle displays, Main St, Arts & Crafts, downtown square -- Ft, Inglish, Demonstration of early skills, Hwy. 56 at Chinner St. -- Historical displays in Visitors Center, 327 N Main -- Historical & model train displays in Bonham Historical Museum, West 1st St -- Fannin County Amateur Radio Club, East side of courthouse -- Railroad Handcar demonstrations –- 520 S Main near the Historical Museum
Thank You, Corporate Sponsors; American Bank of Texas, Bonham Chrysler, Brookshire Grocery, Fannin Bank, Utter Family Ford, Lincoln, Kia, Sanitation Solutions & Bonham Tourism Association Thank you to our other great supporters; Cable One, Kwik Chek/McCraw Oil, North Texas E-news, One House DJs/Tony Cruz, Massey Music Productions, Simpson Bookkeeping, Smith-Moore-Williams, John Ferris Ins. & KFYN 1043fm & 1420am. Main Stage located at 5th & Main St
www.VisitBonham.com 903-583-0302