Front Page
Bonham City Manager Bill Shipp gives 'Community Update'
May 15, 2014
Bonham -- Recent monthly meetings of Fannin Partners in Education (F-PIE) have covered square foot gardening, the side-effects of prescription drugs and the phenomenon of neglect after a stroke. At the last Fannin Partners in Education meeting, the featured speaker, Bonham City Manager Bill Shipp, provided an update regarding the local business climate and the timeline for Lower Bois d'Arc Creek Reservoir.
Of course, the question on everyone's mind is the status of Bonham's flagship hotel, the 66-room Holiday Inn Express being built by developer G.K. Reddy.
"It's being built right now," said Mr. Shipp. "We're extending Hwy. 121 across Hwy. 56 and a large creek to the hotel site. And Old Ector Road [east of the hotel site] will also require some improvement eventually."
The Holiday Inn Express will create 19 jobs.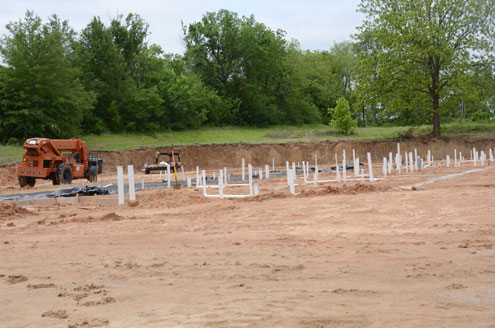 Mr. Reddy will also build a 50-room extended-stay hotel on the east side of the Holiday Inn Express. The two projects are estimated to cost a combined $8.4 million.
Another local project that is well underway is the construction of 12 new aircraft hangars at Jones Field, which is made possible by an infusion of federal funds. Bonham secured a $1.6 million grant from TxDOT and the city came up with a 10% matching contribution of $160,000.
"The hangars are an excellent example of how those grants really stretch our local dollars," Shipp stated.
The City of Bonham spent $130,000 to upgrade a portion of Lake Bonham Recreational Area with concrete pads and 50-amp service.
With demand for hangars at an all-time high and demand for modern campsites at Lake Bonham increasing, both projects should pay for themselves and improve the cash flow.
Construction on Lower Bois d'Arc Creek Reservoir, the largest project in the history of Fannin County, is forecast to begin in 2016, bringing an influx of workers.
"The extended-stay hotel will become an important amenity," Shipp predicted.
The lake will stretch from U.S. 82 northeast to the Coffee Mill Lake area. Shipp expects construction to be completed by 2018 and for the reservoir to be operational by 2020.
Fannin County will have zoning authority around the 16,526-acre reservoir and the 14,959-acre Riverby Ranch Mitigation Area is being created to offset habitat displaced by the reservoir.
"All of this will generate a tremendous amount of economic activity," said Shipp.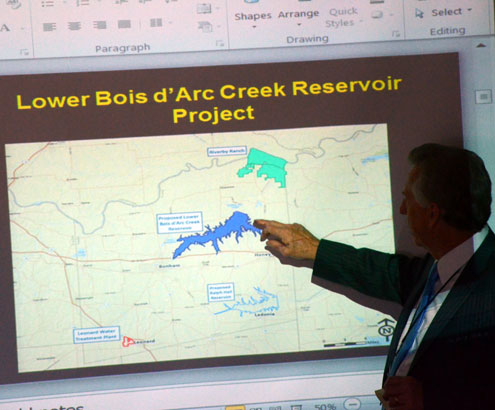 A second lake, the 7,605-acre Lake Ralph Hall in southeast Fannin County, is expected to be permitted in 2015.
Another project that is well underway is the construction of a 44,000-square-foot production facility being built by Kelso Technologies.
Dalnor Systems, LLC is the newest member of the Bonham industrial community. Bonham Industrial Foundation assisted by paying for environmental studies and Dalnor is expected to locate its aviation-related, 12,000 sq. ft. manufacturing facility on the west side of Jones Field in Bonham. W.N. "Mark" Fangio, president of Dalnor Systems, will be relocating to Bonham from New Mexico, along with family members and critical employees.
The Bonham Square is getting more attention these days, too. The Breakfast Stop has been doing a brisk business since it opened February 17 and a new restaurant recently opened on the east side of the square. Another couple is renovating a building on the west side of the Bonham Square with plans to live in the second-floor loft and operate an antique shop on the first floor.
School facilities are vastly improving, as well.
Morning Star Academy is expanding to accommodate enrollment for children six weeks old through 6th grade next school year.
Bonham ISD is making big improvements with new artificial turf at Warrior Stadium and work is underway now on a new softball field that will also have artificial turf. Plans are also being finalized on a much-needed ag barn.
Shipp admitted that progress on the widening of Hwy. 121 North has been far too slow for all parties involved. It will be more than a year before the thoroughfare is moving traffic in four lanes.
"The Hwy. 121 project is moving forward again," Shipp noted. "TxDOT is just as frustrated with this as we are."
On the other hand, progress on widening U.S. 82 to four lanes east of Bonham is ahead of schedule.
In all, Bonham has $60 million in various construction projects underway.
"There is an incredible interest in Bonham right now," Shipp said in closing. "We are on peoples' radar and that is so exciting!"