Entertainment
Commedia Pinocchio, theatre for young audiences presented
May 3, 2014
The Grayson College Theatre Department will present, The Commedia Pinocchio in Cruce Stark Auditorium April 30, May 1, and May 2 at 10:00 a.m. and Saturday, May 3 at 7:00 p.m. This is a show for young audiences and for the entire family. This 50-minute comedy tells the classic story of Pinocchio, a puppet, who wants to become a boy. This version is a creative approach written by Lane Riosley, who is an award-winning playwright. Her script tells the story from characters who are a traveling troupe of actors who choose to perform this story in a "Commedia" style.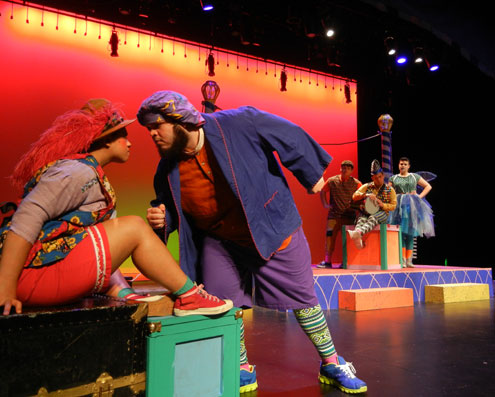 Jasmine Shannon as Pinocchio and Brandon Langston as Gepeto with Gabe Parker, Ryan Ramirez, Madison Sisemore.
This production is directed by Robin Robinson, GC Theatre Director. Tenna Matthews, GC Design/Tech Director is the light designer and Technical Director. Thea Albert, Theatre adjunct professor has helped guide the three student designers for this show. Nick Ellis and Skyler Alton, both sophomore Theatre majors are the costume designers and student Katie Sisemore designed the set.
There are 10 actors on stage, and they each play several roles. This play has singing, gymnastics, and plenty of action. The cast will have the privilege to perform for school groups and the community during weekday matinees. Schools from Denison, Sherman, Bonham, Paris, Roxton, Sam Rayburn and others have booked reservations for their students. There is room for the community as well during these performances.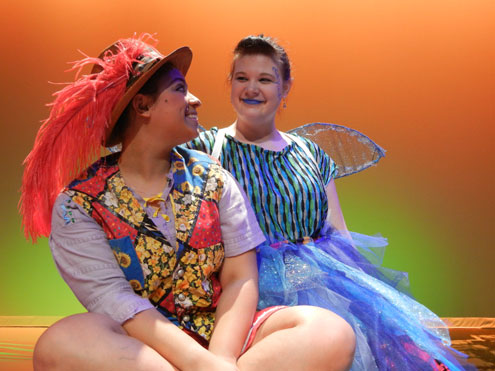 Jasmine Shannon as Pinocchio and Madison Sisemore as the Blue Fairy in Commedia Pinocchio at Grayson College May 3 at 7:00 p.m.
Saturday, May 3 offers a special treat. The GC Visual Arts department will have a reception and auction prior to this show in the Art gallery in the Arts and Communications Building, while the GC Music department will perform in the lobby. Following these events the GC Theatre department will perform Commedia Pinocchio in Cruce Stark Auditorium.
Tickets for the play are only $1. Reservations are not necessary. Running time of the play is approximately 50 minutes. Families are welcome to bring cameras to take pictures with their children and the actors following the show. For more information contact the GC Theatre department at theatre@grayson.edu or 903-463-8609.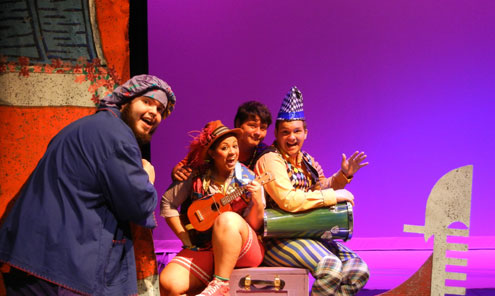 Brandon Langston, Jasmine Shannon, Ryan Ramierz, Gabe Parker in Commedia Pinocchio.