Lifestyles
Downtown Denison Farmers Market to open May 3
May 1, 2014
The Downtown Denison Farmers Market is opening Saturday, May 3.
We invite you to join us for our 4th year! The Red River Valley Dulcimer Club will be providing music, while The Kids Corner will have fun projects planned for the kids. Enjoy local seasonal produce, grass fed beef, eggs, honey, starter plants, handcrafted soaps, Texas Organic Shiitake Mushrooms, seasoned olive oil, breads, cookies, jams and so much more!
The Downtown Denison Farmers Market offers locally grown, quality produce and locally handcrafted products. This gives you, the consumer, the opportunity to "Know your Food...Know your Farmer". By shopping at your local farmers market you are shopping small and local, keeping your dollars in your own community, supporting local growers and providing job opportunities in Texoma.
Where: 400 West Chestnut in historic downtown Denison, Texas
When: Saturdays 9:00 a.m. - 12 noon and Wednesdays 3:00 p.m. - 6:00 p.m.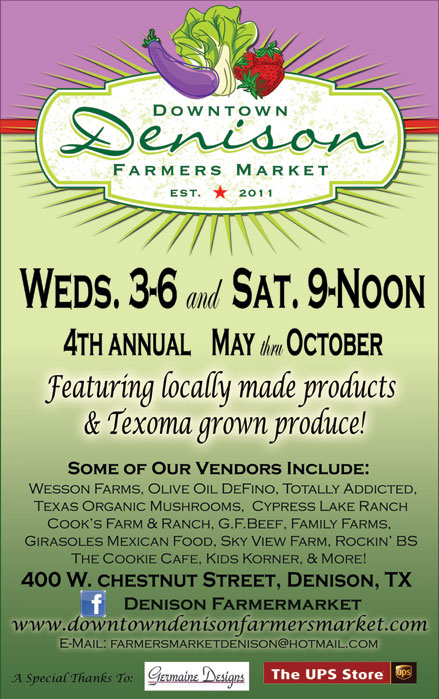 For more information call Cat Adair at 214-208-5754.