Front Page
Prosper centennial celebration looks back 100 years
Apr 24, 2014
Prosper, Texas -- The year was 1914 and the world was rapidly changing. A young and brash baseball player began his career, and before it was over, Babe Ruth was a new national hero. Chicago began building the stadium that would eventually become Wrigley Field.
The Ford Motor Company instituted a radically new eight-hour work day with a minimum salary of $5 a day. That year, Ford sold an astounding 248,000 cars in the US. The US Navy invaded Mexico at Vera Cruz and occupied that city for six months. President Woodrow Wilson established Mother's Day by presidential proclamation. The Panama Canal opened with its first inter-ocean connection, and the war to end all wars, World War I began in late summer.
Barely noticed in the hustle and bustle of the year's monumental events, two small communities in Texas applied for and were granted incorporation – Irving and Prosper.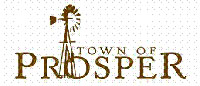 Prosper is celebrating that grand event on Saturday, April 26 from 12:30 p.m. to 4 p.m. in the downtown area. The downtown, incidentally, still retains much of the feel and character of a century ago. The bricks and mortar that hold up some of the downtown buildings like the Cotton Gin Café and a few others are remnants of the time in 1914 when the 500 or so residents decided to become an official town.

They elected a mayor and a board of commissioners and got down to the business of running their new municipality.

Today, the Cotton Gin Café still serves a hot, filling breakfast with a bottomless cup of coffee to residents and visitors alike as they tread on the same floorboards that held their long-ago ancestors. The Cotton Gin Café, along with Maggie's Shop, the Attic Thrift Store and Initiative Cheer will all remain open during the April 26 celebration, welcoming customers and visitors to sample what life might have been like in 1914.
The Prosper Historical Society will add to the theme by dressing in period costume, with farm dresses, coveralls, bonnets and parasols.

Storytelling, book reading and a coloring station with drawings of old Prosper scenes will bring 1914 back into focus. Cakes, pies and other sweets from old family recipes will be available for purchase. Speeches, recollections, exhibits and lots of nostalgia will fill the air throughout the afternoon. A display of old farming equipment, long the staple of Prosper life, will complement the atmosphere.

And, as a nod to the present and future, a zip line, hot dogs and lots of games will be included to make the afternoon a truly family affair. Parking and shuttles will be provided by the Prosper ISD to and from Reynolds Middle School.

Saturday's event is a kick-off to a yearlong observance of the centennial and events throughout the year will harken back to the town's incorporation, culminating with a closing event in 2015 which will include the burying of a time capsule.

The event is free and open to the public.

ABOUT THE TOWN OF PROSPER – The Town of Prosper is a fast-growing suburb with small town charm, located 30 miles north of Dallas at the crossroads of U.S. 380, Preston Road and the Dallas North Tollway in Collin and Denton Counties. Prosper sits on 27 square miles and is home to more than 15,000 people. A home-rule municipality, governed by a council-manager form of government, the town has full-time fire and police departments, including its own dispatch service. As the Town grows to its projected build-out population of 70,000 residents, Prosper's vision is to remain a "Place Where Everyone Matters."