School News
Austin College hosts discussion: 'The Bible and the Liberal Arts'
Apr 21, 2014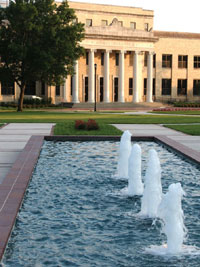 SHERMAN, TEXAS -- The 2014 Austin College Cunningham Lectures will include chaplains and Bible professors from historic Presbyterian Church (USA) colleges joining in a panel discussion on "The Bible and the Liberal Arts: Transformative Dialogues," on Tuesday, April 22, at 11:00 a.m. in Wright Campus Center, Room 231. A follow-up panel discussion on "Does Austin College Need the Bible?" will be held at 8:30 p.m. that evening in the Pouch Club of Wright Campus Center. The events are co-sponsored by the Austin College Johnson Center for Faculty Development and Excellence in Teaching. Both panels are free and open to the public.

Austin College President Marjorie Hass will make opening remarks to initiate the panel discussion, which will include representatives from Austin College, Eckerd College, Rhodes College, and Queens University of Charlotte. The panel discussion evolves from a larger series of workshops that began in spring 2012 focusing on "The Bible and the Big Questions at PC(USA) Liberal Arts Colleges: Toward Pedagogies of Values Identification, Critical Thinking, and Civic Engagement."

Panel participants are listed below by institution:

Austin College:

· Dr. Todd Penner, Gould H. and Marie Cloud Professor of Religious Studies

· Dr. John Williams, chaplain and director of Church Relations

Eckerd College:

· Dr. Davina Lopez, associate professor of religious studies

· Rev. Doug McMahon, chaplain and director of the Center for Spiritual Life

· Rev. Elizabeth Shannon, associate chaplain and associate director of the Center for Spiritual Life

Rhodes College:

· Dr. Milton Moreland, professor of religious studies

· Rev. Walter Tennyson, chaplain and director of the Bonner Center

Queens University of Charlotte:

· Dr. Suzanne Watts Henderson, associate professor of religion

· Dr. Diane Mowrey, chaplain, Irwin Chair of Bible, and professor of philosophy and religion

Mr. Gary Luhr, executive director of the Association of Presbyterian Colleges and Universities, will also participate.

The Cunningham Lectures were established by a gift from Mr. and Mrs. Shem Cunningham of Wichita Falls so that the Austin College community might benefit from the visits of distinguished speakers. Mr. Cunningham was a 1920 alumnus of Austin College.

Austin College, a private national liberal arts college located north of Dallas in Sherman, Texas, has earned a reputation for excellence in academic preparation, international study, pre-professional foundations, leadership development, committed faculty, and hands-on, adventurous learning opportunities. One of 40 schools profiled in Loren Pope's influential book Colleges That Change Lives, Austin College boasts a welcoming community that embraces diversity and individuality, with more than 36 percent of students representing ethnic minorities. A residential student body of 1,250 students and a faculty of more than 100 allow a 12:1 student-faculty ratio and personalized attention. The College is related by covenant to the Presbyterian Church (USA) and cultivates an inclusive atmosphere that supports students' faith journeys regardless of religious tradition. Founded in 1849, the College is the oldest institution of higher education in Texas operating under original name and charter.