Columnists
Kathryn's Texas Kitchen
Apr 4, 2015
I love getting requests from readers. Recently I received a request for a roasted pork loin for Easter to replace his usual ham luncheon. I found a recipe that I thought would be perfect for this reader. When cooked properly, pork is tender and delicious. When cooked to the point of being well done, it is tough and not very tasty.
In past centuries Trichinosis was a disease that was very dominant in pork. It is a disease that is very unpleasant and can even kill people. During the past everyone overcooked their pork way past the point necessary to kill the trichinella. Therefore, generations grew up thinking that pork was always cooked way past overdone and it tasted very tough.
It was in 1835 that James Paget, a first year medical student at St. Bartholomew's Hospital in London, became interested in specks in the muscles of a 51 year old Italian man during his autopsy. Under microscopic examination each of these specks turned out to be a worm encased in a cyst. His discovery led to his professor naming the roundworm specks trichinella spiralis and then presenting a paper about them the next month.
This disease was prominent in countries where people loved to eat raw pork and semi-raw pork products, which was more prevalent in Germany than France. In France they preferred their meats cooked well-done.
While researching trichinosis for this column, I learned many facts that I did not know. Even though my mother-in-law was born and raised in Germany, I've never ever known her to eat one piece of meat that was not well done. When I told Frank, my husband, about this little known fact, he laughingly said she must be from France instead of Germany. Gunda, my mother-in-law, got a kick out of this information, too. Me, I've never eaten raw pork and never will! It doesn't even sound appetizing but I do love pork when it's cooked properly.
Roast Pork Loin with Rosemary and Garlic
Recipe adapted from Bon Appétit magazine, Jun 2013
Ingredients
8 garlic cloves
¼ cup fresh rosemary leaves
½ tsp Kosher salt plus more
2 TB olive oil
1 4-lb boneless pork loin
Fresh ground black pepper
2 cups dry wine

Other Items Needed
Measuring cups and spoons
Two cutting boards
Chef's knife
Small bowl
Whisk
Kitchen twine
Large, shallow baking dish
Carving board

Instructions
Preheat oven to 400 degrees.
Finely chop garlic and rosemary with ½ tsp salt on one of the cutting boards. Holding knife at an angle, drag blade over mixture until a coarse paste forms. Transfer paste to the small bowl and whisk in oil.
Place pork, fat side down, on another cutting board with the short end of the pork toward you. Holding a sharp knife parallel to the board and about ½-inch upside of loin, make an incision along entire length of one side. Continue cutting, lifting meat with your free hand as you go, until loin is open and flat. Spread garlic mixture over inside of loin and season with salt and pepper. Roll pork tightly. Use twine and tie at 1-inch intervals.
Season pork with salt and pepper. Place pork fat side up in the baking dish. Add wine. Roast pork until an instant-read thermometer inserted into the thickest part of loin registers 145 degrees (1½ to 2 hours). Transfer to the carving board. Let rest at least 10 minutes.
Spoon fat from surface of pan juices and discard. Slice pork and serve with pan juices.
DO AHEAD: Pork can be stuffed and tied one day ahead. Cover and chill. Bring to room temperature before roasting.
On the horizon for Kathryn's Texas Kitchen is a delightful dish for the breakfast or brunch table.
Happy Easter! Until next time…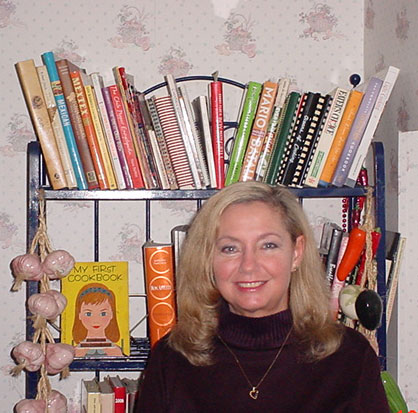 Bon appétit!