School News
Bonham ISD making big improvements
May 19, 2014
Bonham -- As the school year winds down, Bonham ISD is gearing up for what is certain to be a year to remember in 2014-2015.
New artificial turf in Warrior Stadium, a new softball field that also has turf, a new ag barn and a new weight room are just a few of the capital improvements underway now. Improvements that have already been completed include several new band instruments, renovated baseball dugouts, HVAC in L.H. Rather Junior High gymnasium and additional playground equipment at Finley-Oates Elementary School.
As impressive as this list of upgrades are, maybe the most impressive fact is that all of this is being done without raising taxes or diminishing the Bonham ISD fund balance.
Installation of turf on the football field will be complete approximately May 1, giving Bonham a playoff stadium that can hold almost 8,000 spectators. More importantly, the improved, all-weather playing surface will benefit band, football and soccer, as well as youth football leagues. It is also important to note that the estimated annual cost of properly maintaining a grass field is around $70,000.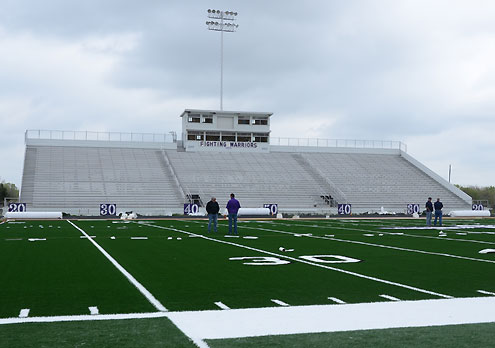 These important capital improvements could help Bonham ISD attract more students. Approximately 250 students live in the school district, yet choose to go elsewhere. If Bonham ISD could bring 60 of those students back, the school district would receive an additional $300,000 annually without noticeably impacting expenditures.
While this year's seniors didn't get to benefit from most of these amenities, they will leave behind a unique legacy. A commemorative jersey signed by all the Bonham High School seniors who participated in athletics, band, cheerleading and pep squad was buried at the 50-yard line in a time capsule.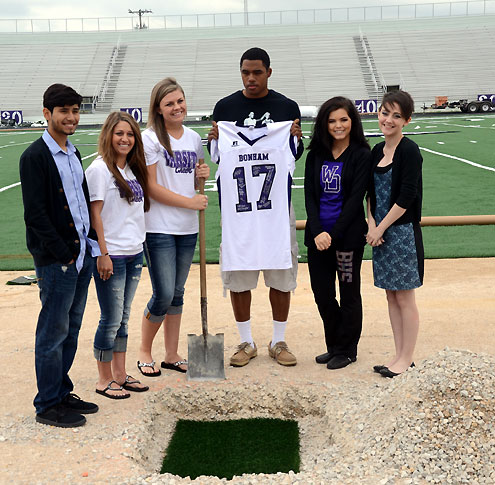 (L-R) Daniel Loredo, Addison Essary, Kaytlyn Hamby, Dra Smith, Zoe Martinez and Kendall Smith