Lifestyles
Willow Wild Cemetery invites you to 'Mother's Day on the Grounds' May 10
May 10, 2014
Saturday, May 10, 2014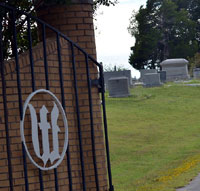 Willow Wild is moving its Third Annual Dinner on the Ground from fall to spring this year. And in honor of the weekend of the new date, we're re-naming it -- "Mother's Day on the Grounds."

This re-scheduling resolves some timing conflicts, and we're hoping it will enable more people from out of town to attend. If you're reading this from some place faraway from Willow Wild, but you have a trip planned to Bonham for Mother's Day, simply add us to your weekend's activities.

The weather will be wonderful. Mother's Day is traditionally a time to place flowers at the cemetery, and the grounds will look especially beautiful that day...please take a minute to register here.