Lifestyles
Texas Civil War Museum in Fort Worth commemorates 75th anniversary of premiere of Gone With the Wind
Oct 6, 2014
Fort Worth -- December, 2014 marks the 75th anniversary of the premiere of Gone With the Wind. Margaret Mitchell's best selling novel is the Gettysburg of Hollywood. Everything that came before it paled in comparison, everything that came after it is measured by its standard. Gone With the Wind did more to raise awareness of the Civil War than all history texts combined. More people can identify a photo of Vivien Leigh as Scarlett than they can the First Lady, Mary Todd Lincoln. Everyone may know the war time words "Four score and seven years ago…" but they also know the words "Frankly my dear, I don't give a …"
For women called the greatest generation and even some baby boomers, Rhett Butler was their first teenage crush. Scarlett, though possessing some undesirable traits, did emerge as a role model with her business savvy and strength to stand against the odds in a man's world. She was a survivor.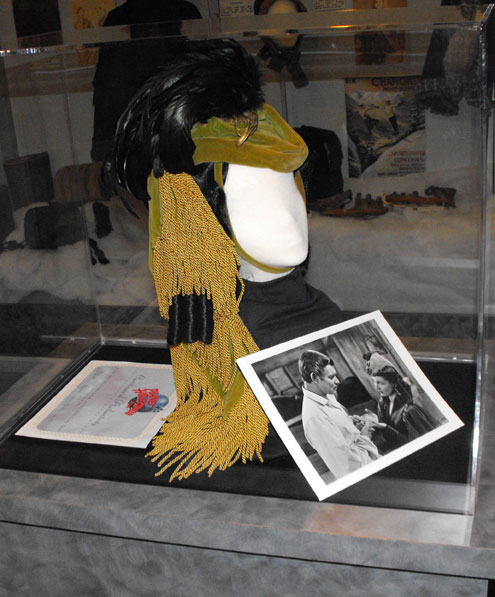 In the last seven and half decades the movie has become legendary, the casts of characters have become long, lost ancestors and the music a love anthem. Nobody does it like Gone With The Wind.
Scarlett's green velvet hat, made from the draperies, is now on exhibit at The Texas Civil War Museum and part of the museum's permanent collection.
The museum's operating hours are Tuesday-Saturday, 9 a.m. until 5 p.m. Admission prices are $6 for adults and $3 for ages 7-12. Children 6 years and under are free. Group and active military discounts are available.
The museum is located at 760 Jim Wright Freeway North (West Loop 820) in Fort Worth. Information about the museum can be obtained by calling 817-246-2323. More information is available on the museum's Web site: www.texascivilwarmuseum.com.