Front Page
Heritage Day Celebration in Bonham to feature wine tasting
May 3, 2014
Bonham -- Homestead Winery will host a wine tasting featuring wines from across northeast Texas during Heritage Day Celebration in historic downtown Bonham May 3.
The wine tasting is scheduled for 1:00 p.m. until 5:00 p.m. on the northwest corner of the Bonham Square. Tickets are $20 per person and that is good for five tastings of wine or food. Cappy's Café will provide food for the event, with wines available from Grayson Hills Winery, Landon Winery, Paris Winery and Homestead Winery. A souvenir wine glass will come with each ticket.
Tickets are available at Homestead Winery in Ivanhoe, Texas or at Owens-Parker Medical, 420 North Center Street in Bonham.
The festival permit also allows wineries to sell wine by the glass or by the bottle.
"Homestead Winery is very excited about hosting this wine tasting," said Samantha Lumpkins. "We are hoping this can be part of our Heritage Day Celebration every year."
Wine making in Texas got its start when Franciscan priests established North America's first vineyard in the Lone Star State circa 1662. Today the wine and grape industry has an annual economic impact of $1.8 billion in Texas.
Texoma is one of eight designated American Viticulture Areas in Texas. North Texas has 26 wineries and 25 vineyards, second only to the Texas Hill Country, which has 38 wineries and 25 vineyards.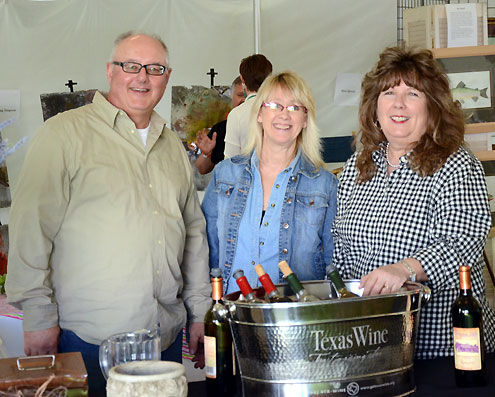 (L-R) Rick Magers, Samantha Lumpkins and Connie Magers, shown here serving up wines available at Grayson Winery and Homestead Winery during a weekend festival in Denison, will be among the winery representatives offering a wine tasting at Bonham's Heritage Day Celebration May 3.