Local News
The Holocaust: Days of Remembrance coming to Commerce
Apr 19, 2014
COMMERCE, TX -- The Texas A&M University-Commerce Department of Political Science along with the Dallas Holocaust Museum/Center for Education and Tolerance will present a two day program called "The Holocaust: Days of Remembrance" on campus April 21 and 22. This program will feature artifacts from the Holocaust and a traveling exhibit from the Dallas Holocaust Museum that will be on display in the Rayburn Student Center (RSC). There will also be special guest speakers Margaret "Magie" Furst, Jack Repp, and Rosa Blum who are all survivors of the Holocaust.
"The Holocaust is representative of both the very worst and, ironically, the best in human nature," said Dr. Jeffrey C. Herndon assistant professor of political science. "On the one hand, it was the triumph of intolerance. On the other it demonstrates the power of hope and perseverance in the face of the kind of adversity that most people, thankfully, will never experience."
Starting on April 21, Margaret "Magie" Furst will speak at 10 a.m. in the RSC about her experiences as a Kindertransport child. At 2 p.m., Jack Repp will recount his time in Poland as a resistance fighter and in the death camps of Dachau and Auschwitz. On April 22 at 10 a.m. Rosa Blum will speak about her separation from her family and her life in the camps.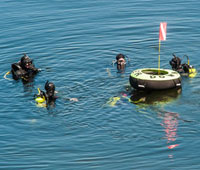 "It is the privilege of the Department of Political Science to work with the Dallas Holocaust Museum/Center for Education and Tolerance to bring some of those who survived the horrors of the Holocaust to Texas A&M University-Commerce so that their stories can be told and remembered," said Dr. Herndon. "This is important because every day the number of those who survived are passing away and we are determined to remember them and give our students the opportunity to hear their stories."
All events will be free and open to the public. For more information on the speakers, visit http://www.dallasholocaustmuseum.org/education/speakers.