Local News
Model train layout moves to depot for Heritage Day, features new scale model of Bonham's Texas & Pacific depot!
May 3, 2014
Come by the Fannin County Historical Commission in the depot at Center and West First Streets during Heritage Day on May 3 and watch the trains run!
A large model railroad display will be running at the historic depot on Heritage Day from about 8:15 a.m. until about 4:30 p.m. Bill Benson, Louis Bourett, Mike Posey, and Leeman Sewell will be on hand to operate several different sizes and types of model trains – all the way from hand cars to truly huge steam locomotives – and modern era diesels. The train display will just about fill the entire meeting room of the Fannin County Historical Commission in the east end of the depot.

One goal of the group operating the trains is to preserve the history of this part of Fannin County by recreating historical places and buildings in the Bonham and Honey Grove areas. As a first step toward this goal, they commissioned a well-known Pennsylvania model builder, Richard Krieg, to build a ¼" scale model of the Depot building itself. Bill and Price Bradshaw took measurements and photographs of various parts of the building, and sent these to Mr. Krieg, who also consulted old photographs and historical records to produce a truly remarkable model nearly five feet long and with a tower 12 inches high.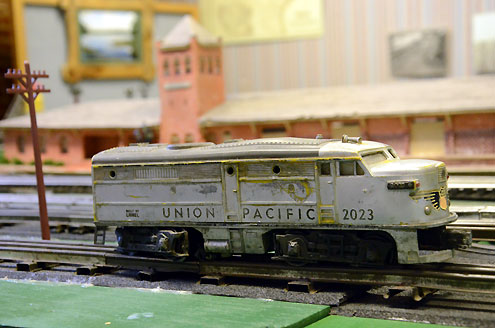 One of the rather unique features of this display is that it will accommodate three sizes of trains: Standard gauge (primarily made by Lionel, Ives, American Flyer, and MTH), with a scale of 1:25; "O" gauge (made by Lionel, Atlas, and Weaver, 1:48; and "O-27" (made by K-Line, Lionel, and Marx), with a scale of about 1:52. The innermost loop of track has five rails and will permit simultaneous operation of a Standard gauge train and an "O" gauge train. The two outside loops will accept "O" gauge or "O-27."
The layout now is basically a rather large toy train layout, but as noted above, we envision it evolving and growing over the years to represent the route of the former Texas & Pacific line between Bonham and Honey Grove, with miniature models of real buildings in the two towns. If you would like to join in the effort to make the layout grow, be sure to leave your name and number with somebody at the layout! Or if you just have some trains you'd like to see run, bring them by and take a turn at the throttle!