Local News
Raytheon announces new state-of-the-art office complex in North Texas
May 31, 2014
GARLAND, Texas, (March 26, 2014) – Raytheon Company (NYSE: RTN) today announced plans to move its Garland, Texas, operations to a new state-of-the-art office complex to be built at the CityLine development in Richardson, Texas. Raytheon will occupy 489,000 square feet in three buildings located near the intersection of President George Bush Turnpike and North Central Expressway (US 75), and will begin the move in the fourth quarter of 2015, depending on the construction schedule.
"Moving our Garland operations to this state-of-the-art facility in Richardson, Texas, will provide an outstanding modern work environment for our 1,700 employees and visitors and will allow for expansion as our business grows," said Lynn Dugle, president of Raytheon Intelligence, Information and Services (IIS). "Our new offices will also help us support the missions of our customers and will better reflect our role as a global technology and innovation leader in such areas as information processing, big data, cyber security, and weather data exploitation."
Raytheon's Jupiter Road complex in Garland dates back to the 1950s. Several options are being pursued regarding the future of the site. Throughout North Texas, the company has approximately 8,000 employees, and in addition to IIS, Raytheon's Missile Systems, Space and Airborne Systems, and various corporate operations are located in the area. Last year, SAS relocated its headquarters to McKinney, Texas, from Southern California.
KDC will develop a 489,000-square-foot facility for Raytheon Company at the developer's 186-acre mixed-use CityLine project in Richardson.
Raytheon's new facility will include three campus-style buildings located at the southwest corner of President George Bush Freeway and Wyndham Lane. Construction will begin in summer 2014 with completion slated for 2015.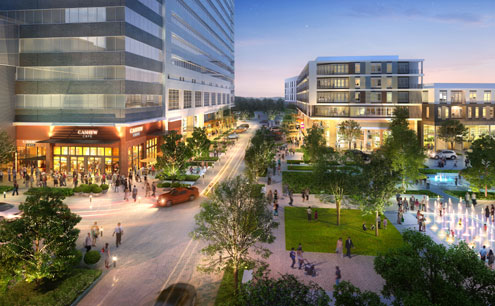 "CityLine" development to feature Ratheon campus, along with hotel, retail, multi-family, fitness, medical and office space - artist's concept
HKS is the project architect and Kimley-Horn and Associates is the civil engineer. Brad Selner and Stephen Holley with JLL's Dallas office along with Michael Condon and Brendan O'Shaughnessy and with JLL's Los Angeles office represented Raytheon in the transaction.
"We are pleased to welcome Raytheon, an exceptional company, to the CityLine development" said Toby Grove, president of KDC. "Their new campus facility will complement the entire CityLine development and enable the company to attract and retain the best possible talent for years to come."
Background on CityLine
KDC has already begun the initial phase of the 2.3 million-square-foot CityLine mixed-use development with completion scheduled for 2015. The project features dense urban development set in a comfortable and accessible environment. The focal point of the initial phase will be CityLine Plaza, a centrally located urban plaza designed by the Office of James Burnett, the landscape architect of Dallas' signature Klyde Warren Park. The natural looking landscaped plaza will offer open space for outdoor concerts and festivals, shaded gathering spots for meetings or meals and inviting walkways for enjoyable pedestrian experiences. More than 92,000 square feet of retail, restaurant and entertainment venues with sidewalk cafes and patio seating will frame CityLine Plaza and State Street.
A contemporary 150-room select service hotel will also be developed, along with 532 new urbanism multi-family residential units, a 17,000-square-foot wellness and fitness facility, and a 41,000-square-foot boutique office building. A 3.5 acre park will offer an attractive local amenity, as well as connect runners and cyclists to a trail system that runs as far south as White Rock Lake.
At full build-out, CityLine will contain approximately six million square feet of office space, two hotels, 3,925 multi-family residential units, 300,000 square feet of grocery, restaurant, entertainment and retail space, and three parks.
About Raytheon
Raytheon Company, with 2013 sales of $24 billion and 63,000 employees worldwide, is a technology and innovation leader specializing in defense, security and civil markets throughout the world. With a history of innovation spanning 92 years, Raytheon provides state-of-the-art electronics, mission systems integration and other capabilities in the areas of sensing; effects; and command, control, communications and intelligence systems, as well as cyber security and a broad range of mission support services. Raytheon is headquartered in Waltham, Mass. For more about Raytheon, visit us at www.raytheon.com and follow us on Twitter @Raytheon.