Front Page
5K mud & obstacle race to benefit Grayson County area fire departments
May 31, 2014
3rd Annual!
"Run for the Hills"...and a good cause.
It's a race. It's a party. Down and dirty fun.
A rural charity race to benefit the Grayson County Area Fire Departments - May 31, 2014
Run for the Hills is the first "5K mud & obstacle race" in North Texas. This event is a foot race organized to benefit the fire departments in our community. Our first two races exceeded everyone's expectations. In June of 2012 there were 300 participants, some from as far away as Maryland. The number of participants in the 2013 race increased to 450. The racers ran in multiple heats throughout the day and were cheered on by hundreds more of their family and friends.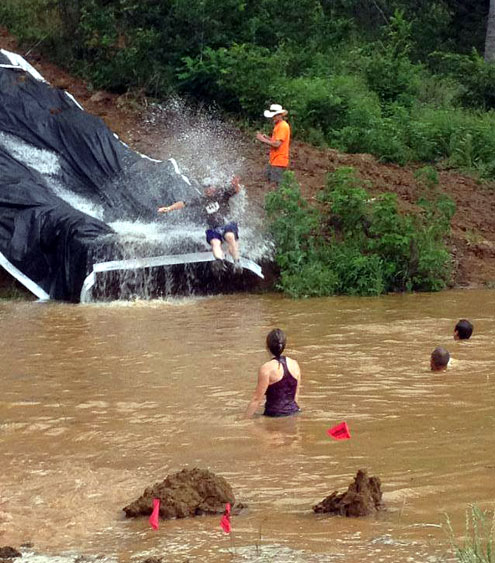 All ability levels are welcome and the diverse population of racers includes seriously fit and competitive athletes to fun-loving trotters and walkers. Mud and obstacle races appeal to many different people who run as individuals or as part of a team. Many teams are co-workers who use this opportunity as a team-building event. Companies can highlight their commitment to community responsibility by participating as a sponsor, running in the event, or both!
Many firefighters from both volunteer and city departments assist in the construction of the course, monitor the safety of the obstacles on race day, and will directly benefit from the proceeds. The day itself is filled with fun and excitement.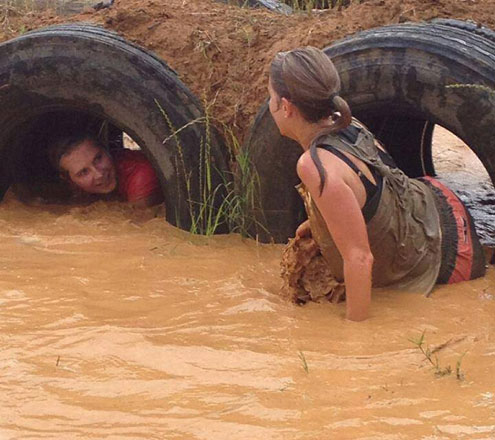 Highlights will include the large ladder truck from the Denison Fire Department which will be used as a public shower for mud racers at the end of the race, live music provided by a showcase of high energy bands, and the high quality food and drink available at Loose Wheels.
Due to the overwhelming success of the first two mud runs, we are confident that the 3rd Annual Run for the Hills will draw an even greater number of participants and spectators. Your participation as a sponsor and/or racer will provide us the opportunity to present the participating area fire departments with the much needed funds they will use to better serve our communities as well as providing your company widespread exposure to a large number of potential customers!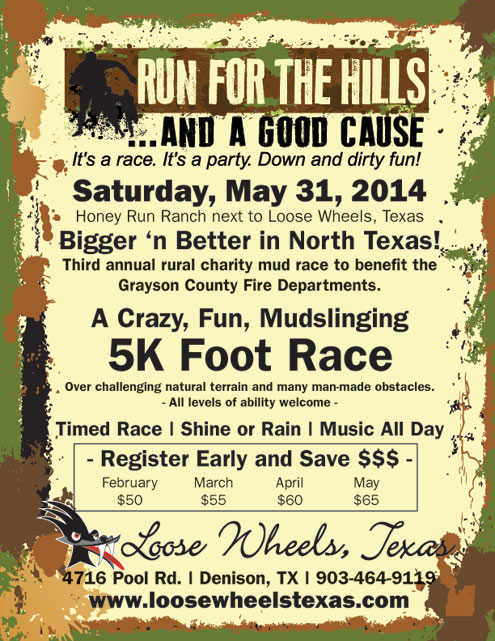 Run for the Hills is a registered 501(C)3 organization. Donations are tax deductible.