Local News
Bertha Voyer Memorial Library named first runner-up for 2014 'Best Small Library in America'
Feb 27, 2014
Each year The Bill and Melinda Gates Foundation sponsors a yearly recognition of America's best small libraries through Library Journal's Best Small Library in America. Hundreds of libraries across the country apply for this honor each year. This year the Bertha Voyer Memorial Library (BVML) in Honey Grove had the designation of being first runner up to the Pine River Library in Colorado.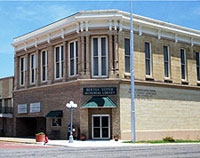 In the past three years, the Bertha Voyer library has seen dramatic growth. Patron visits have increased by 40 percent. Programs for children and adults of all ages are held on almost a daily basis with over 3,600 participants in the past year…more than twice the town's 1,168 residents. Recent changes include swapping out story time for "Library School" to prepare toddlers and pre-K patrons for school.

Getting the most from its $59 per capita budget, the library also stepped up to deliver programs that other local agencies had to cut, such as art classes for students and Meals on Wheels when the Senior Nutrition Activity Program center shut down.

Judge Mary Beth Stenger explains, "The thing that I like about Bertha…is their understanding about why small libraries are needed…[W]e provide a home."

The BVML was cited as a finalist for increased patron visits, public programs attended by large numbers and its community outreach.

The BVML has free Wi-Fi, free e-books and music, and the latest books and DVD's arriving each day. It sponsors a variety of book clubs, a top-notch photography club and activities for patrons from birth to senior citizen.