Local News
Historic handcar rolls through downtown Bonham
Feb 27, 2014
Bonham -- There was a time when handcars were a regular sight rolling along the railroad tracks in Bonham, but it is highly unlikely there was ever a finer example of this historic mode of transportation along the rails than the one Jeff Cooney brought to town Saturday, February 22.
Mr. Cooney's vintage 1910 Sheffield handcar was built in Three River, Michigan. Sheffield Velocipede Car Company -- a velocipede is a lightweight wheeled vehicle propelled by the rider --- had its start in 1877
In the late 1800s and early 1900s, railroad workers utilized handcars to maintain sections of track and to make urgent deliveries to the next station. The U.S. had approximately 130,000 miles of rail by 1900 with section crews assigned to six- to 10-mile sections of track. Most sections would have a section house to store the section's handcar and tools. Those numbers would indicate at least 13,000 handcars were in use in the U.S. during their heyday.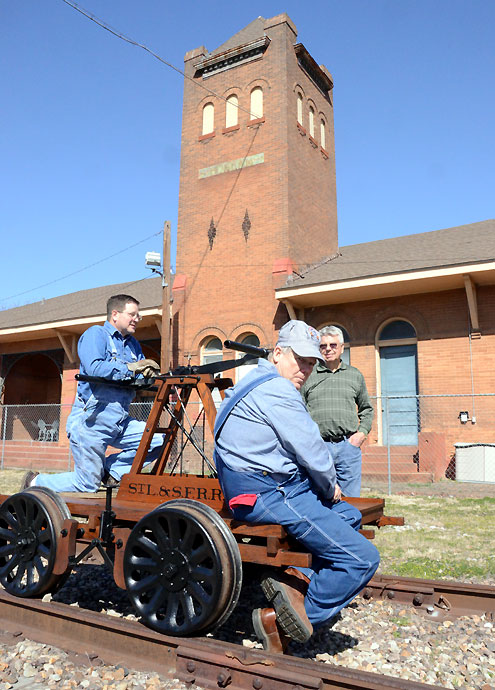 (L-R) Railroad enthusiasts Jeff Cooney and Rick Prentiss sit aboard Mr. Cooney's restored handcar and visit with Glenn Taylor, Fannin Rural Rail District President.
Sheffield handcars were also shipped abroad, primarily to England. An advertisement from 1887 noted that the deck on Sheffield handcars was made of ash, but the antique handcar running up and down the rails in Bonham this past weekend had been restored with high-quality red oak.
Cooney's original plan was to keep the showy handcar in the living room, although his wife chose to go with a different decorating scheme.
"Would have sure made a pretty coffee table," joked Rick Prentiss, another railroad enthusiast in Bonham February 22.
Myron Malone was also in town to do work along the track with his motorized version of a handcar, known as a motorcar. While motorcars were phased out decades ago in favor of Hy-Rail vehicles, Mr. Malone is one of a number of motorcar owners who belong to clubs that, with the permission of the railroad, enjoy rail excursions that range from an afternoon to a week in many parts of the U.S. and Canada.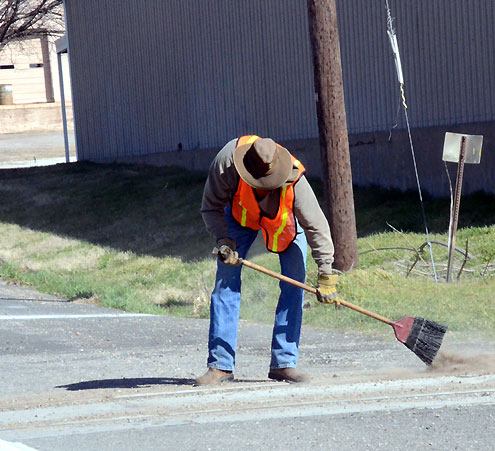 Myron Malone clears gravel from a railroad crossing in Bonham.
Malone is a member of Railroad Partners, Inc., a 501 (c)3 non-profit corporation.
"Motorcar guys will volunteer time and equipment to help preserve antique rail corridors," explained Malone.
Events on one section of rail between Llano, Texas and Kingsland, Texas attract a dozen or more motorcar operators for fun excursions and work details.
Dublin, Texas is inviting display motorcars to participate in that city's St. Patrick's Day celebration March 15. Although the display will be off-track in the city park, this will still be an opportunity to look over several motorcars.
There is a chance that Bonham will choose to generate interest among railroaders in order to attract handcars and motorcars to participate in this year's Heritage Day Celebration May 3 in Bonham. It could be an opportunity for rail enthusiasts to operate on tracks mere yards away from the North Texas Garden Tractor Pulling Association contest located west of Main Street, slightly west of Fannin County Museum of History.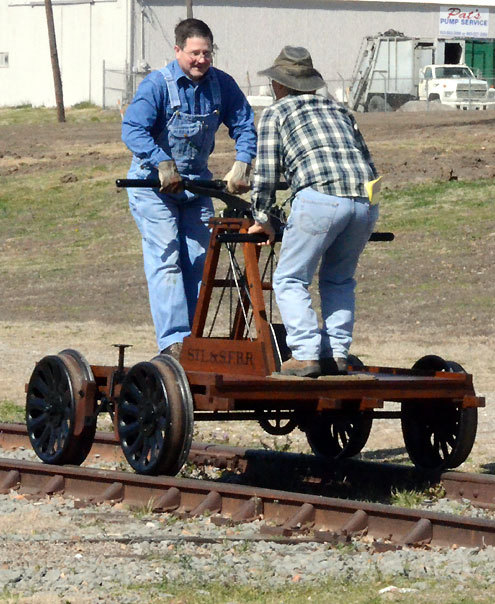 Jeff Cooney (left) gives Allen Rich an exciting ride through Bonham.
Cooney has also restored a Casey Jones car and a Fairmont MT14 car which he normally uses on trips. The Casey car is a Casey Jones 561 Heavy Duty Gang Car manufactured by the Northwestern Motor Car Company, Eau Claire, Wisconsin. It would date to about 1930 and is powered by a Ford Model "A" 4-cylinder engine. It was originally used by the Katy Railroad and came out of Denison, Texas. Cooney found the car sitting in a pasture near Trenton, Texas in 2009.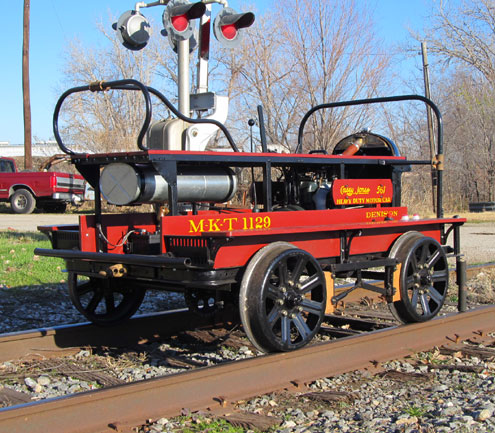 Mr. Cooney's Casey Jones 561 Heavy Duty Gang Car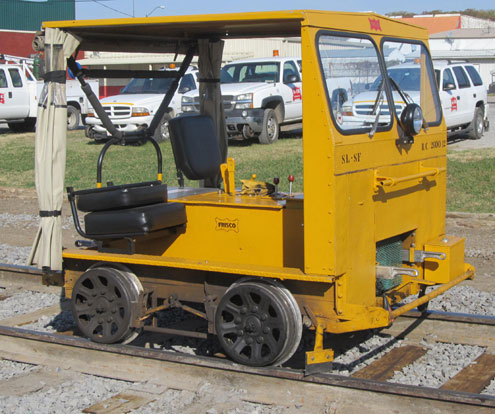 Cooney's Fairmont MT14 car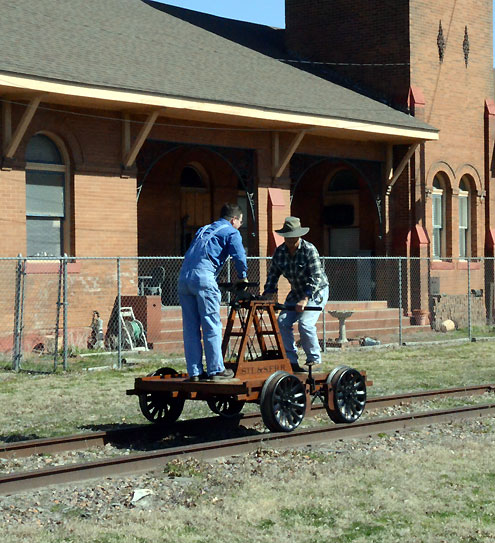 ...pulling in to the station.