Front Page
The Short Story of Harry Peyton Steger: chapter 47
Feb 24, 2014
Things happened fast in the life of Harry Peyton Steger.
As a 15-year-old graduating from Bonham High School in 1897, Steger had delivered a high school address on the topic of "Character vs. Reputation."
Eight years later, in the fall of 1904, Harry was studying at Balliol College in Oxford, England as a Rhodes Scholar. He had completed basic studies at the University of Texas and spent a long, cold year in Baltimore doing graduate work at Johns Hopkins.
In September 1907, a little over 10 years after graduating from high school, Steger landed in New York City with no means of income and with his sights set on making a living off creative writing. Harry had to find another target for his literary skills, but the success he seemed to sense was only months away. By September 1908, Harry was an indispensable member of Doubleday, Page & Company.
"It was more the sort of exit you or Bedichek should have had than I," Harry wrote to Lomax.
Less than a dozen years after graduating from Bonham High School, Steger was now a literary advisor at one of the most prominent publishing firms in the county, revitalizing the career of O. Henry and still finding time to edit Short Stories magazine ("before breakfast, with my left hind leg").
Harry married an actress named Dorothy McCormack, bought a new home in Garden City, a suburb 20 miles from New York City, and then the couple decided to buy a bungalow in Freeport, Long Island where weekends meant fishing excursions with friends and long dinners with many of the writers Harry was either befriending or recruiting for Doubleday, Page & Company. Dorothy said she never knew how many guests were on the train bound for the bungalow until the caretaker began setting out chairs.
Dorothy seemed to care deeply for Montague Glass and the rest of Harry's inner circle. Harry doted over Teddy, the young son Dorothy brought into the marriage.
But then, in the first bitter-cold days of January 1913, with Dorothy in Paris, Montague still secluded and writing in a French villa and all of Harry's family far away in Fannin County, it happened.
Harry's kidneys began shutting down.
Or, perhaps it would be more accurate to say it happened again.
An incident in May 1906 would surely have been a precursor. Back in his days at Oxford, Harry had noticed a "penetrating pain" coming from his right kidney after exercising one day. The following morning at 4:00 a.m., Steger woke up screaming and a doctor that was hurriedly summoned gave repeated doses of morphine. Harry seemed to be on the road to recovery when, eight days later, his attendant at Oxford heard Steger thrashing and moaning. Again the doctor arrived to find Harry screaming and delirious. This time even morphine couldn't touch the pain. He spent eight days in the hospital, only to have a reoccurrence three days after being released. One of the world's leading physicians at the time, Dr. William Olser, examined Harry.
"He came to see me," Harry had explained to his Uncle, Ed Steger, "and sent me to London under nurses' charge to be x-rayed. Nothing showed. On my return, he analyzed my urine, found uric acid in large quantities, hinted strongly at Bright's disease, gave me alarming advice about my future and sent me to Karlsbad [Austria]."
Dr. Olser's warning had merit.
It is quite possible Harry had already been troubled to a certain extent by juvenile diabetes for years. He had been plagued by vision problems, periods of relative lethargy and headaches. The diagnosis administered by Dr. Olser seems to have been an indication of type 2 diabetes, right down to the uric acid stone Harry passed once treatment began in Karlsbad.
Proper exercise and a strict diet are necessary to limit the effects of type 2 diabetes and Harry wasn't doing a very good job of managing either one. John Lomax had been worried enough about his old friend's appearance to tell Harry's parents about his concern and had been verbally thrashed by Harry for his effort.
Lomax, like Olser, had reason to worry about Harry's future.
Bellevue Hospital, located on First Avenue near the East River where Dorothy and the McCormack family learned to be strong swimmers, was established in 1736 when George Washington was only a four-year-old toddler. This historic medical facility was America's first public hospital. Just after the first of the year in 1913, Harry was admitted to Bellevue Hospital.
Harry Peyton Steger had ridden his unique gift of logic and reason to prominence in the publishing world, but with his kidneys failing and toxins backing up in his body, Harry became belligerent and delusional. On January 3, 1913, against the advice of his attending physicians at Bellevue and without stopping to sign the customary release form, Harry checked himself out of the hospital.
Now he was alone in New York City.
Steger knew hundreds of people in the city through his profession and social life, but there wasn't a close friend there to make responsible choices now that Harry's thoughts were clouded with poison.
Harry went from Bellevue to the Hotel Caledonia.
Was he turning to a trusted friend in his hour of desperation?
As reality slipped away, could he have been looking for his old room at the Caledonia? Maybe he was even looking for O. Henry. Steger ended up in the apartment of an acquaintance at the Caledonia, where he collapsed. Harry was rushed to Polyclinic Hospital, but it was too late.
Harry Peyton Steger lapsed into a diabetic coma and died January 5, 1913. The standard Certificate of Death issued by the Department of Health of the City of New York listed diabetic mellitus and chronic interstitial nephritis as contributory causes of death.
It would have been a day before the stunned Steger family in Bonham read and reread the telegraph. In Paris, Dorothy Steger and Margaret Porter packed in a state of shock and boarded the Kaiser Wilhelm in hopes they could make it back in time for the funeral in Bonham.
Word of Harry's passing quickly spread among publishing associates, the writers who depended on him and, of course, his close friends from those days Steger always cherished at the University of Texas.
Thanks to a passage written by J. Frank Dobie, we even know how the news struck Roy Bedichek, the one person on earth that Harry considered his twin.
Roy cried all day long.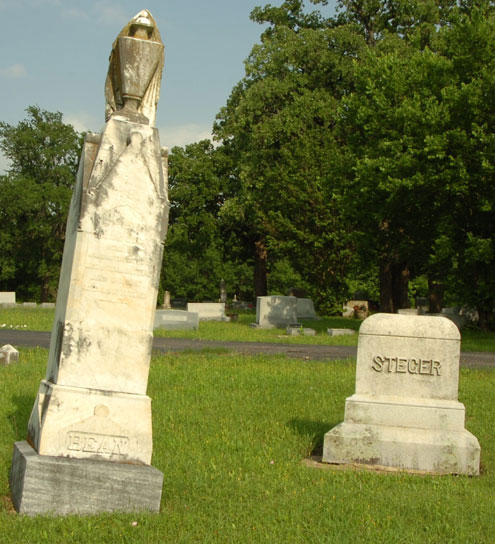 Harry Peyton Steger's final resting place is Willow Wild Cemetery in Bonham, Texas. The leaning monument on the left marks the gravesite of Tom Bean.
Previous Steger articles:
http://www.ntxe-news.com/artman/publish/article_86954.shtml
http://www.ntxe-news.com/artman/publish/article_86956.shtml
http://www.ntxe-news.com/artman/publish/article_86957.shtml
http://www.ntxe-news.com/artman/publish/article_86955.shtml
http://www.ntxe-news.com/artman/publish/article_86965.shtml
http://www.ntxe-news.com/artman/publish/article_87117.shtml
http://www.ntxe-news.com/artman/publish/article_87118.shtml
http://www.ntxe-news.com/artman/publish/article_87119.shtml
http://www.ntxe-news.com/artman/publish/article_87121.shtml
http://www.ntxe-news.com/artman/publish/article_87207.shtml
http://www.ntxe-news.com/artman/publish/article_87123.shtml
http://www.ntxe-news.com/artman/publish/article_87213.shtml
http://www.ntxe-news.com/artman/publish/article_87214.shtml
http://www.ntxe-news.com/artman/publish/article_69808.shtml
http://www.ntxe-news.com/artman/publish/article_87235.shtml
http://www.ntxe-news.com/artman/publish/article_87310.shtml
http://www.ntxe-news.com/artman/publish/article_87311.shtml
http://www.ntxe-news.com/artman/publish/article_87312.shtml
http://www.ntxe-news.com/artman/publish/article_87313.shtml
http://www.ntxe-news.com/artman/publish/article_87316.shtml
http://www.ntxe-news.com/artman/publish/article_87467.shtml
http://www.ntxe-news.com/artman/publish/article_87500.shtml
http://www.ntxe-news.com/artman/publish/article_87501.shtml
http://www.ntxe-news.com/artman/publish/article_87502.shtml
http://www.ntxe-news.com/artman/publish/article_87503.shtml
http://www.ntxe-news.com/artman/publish/article_87615.shtml
http://www.ntxe-news.com/artman/publish/article_87616.shtml
http://www.ntxe-news.com/artman/publish/article_87617.shtml
http://www.ntxe-news.com/artman/publish/article_87618.shtml
http://www.ntxe-news.com/artman/publish/article_87620.shtml
http://www.ntxe-news.com/artman/publish/article_87759.shtml
http://www.ntxe-news.com/artman/publish/article_87765.shtml
http://www.ntxe-news.com/artman/publish/article_87766.shtml
http://www.ntxe-news.com/artman/publish/article_87767.shtml
http://www.ntxe-news.com/artman/publish/article_87768.shtml
http://www.ntxe-news.com/artman/publish/article_87769.shtml
http://www.ntxe-news.com/artman/publish/article_88065.shtml
http://www.ntxe-news.com/artman/publish/article_87929.shtml
http://www.ntxe-news.com/artman/publish/article_87930.shtml
http://www.ntxe-news.com/artman/publish/article_87970.shtml
http://www.ntxe-news.com/artman/publish/article_88033.shtml
http://www.ntxe-news.com/artman/publish/article_88034.shtml
http://www.ntxe-news.com/artman/publish/article_88035.shtml
http://www.ntxe-news.com/artman/publish/article_88066.shtml
http://www.ntxe-news.com/artman/publish/article_88067.shtml
http://www.ntxe-news.com/artman/publish/article_88072.shtml