Entertainment
North Texas Irish Festival Feb. 28-March 2
Mar 1, 2014
North Texas Irish Festival back with Canines and Celtic Culture: Feb. 28-March 2
Largest celebration of culture in Southwest goes to the dogs as its 32nd year showcases all things Irish, including dogs, dancing, dining and more in Dallas's Fair Park
DALLAS, TX – The rumors are true: this year's North Texas Irish Festival -- the 32nd year of what has grown into the largest cultural celebration in the Southwest -- has gone to the dogs! From "Erin Go Bragh!", a traditional Irish saying meaning "Ireland Forever," to "Erin Go Bark!", the theme of this year's festival, this phrase reflects one of its most-loved traditions as it celebrates the role of the "Celtic canines" in this beloved dog- and family-friendly festival. From the famed Irish Wolfhounds to Irish Water Spaniels, Kerry Terriers to Irish Setters and more, dogs are one of the many aspects of Celtic culture that is for everyone to enjoy in Dallas's own Fair Park Feb. 28 through March 2.
Whether your dog is Irish, Celtic, or just a friendly mutt, he or she is welcome to accompany you and your family to enjoy the music, culture, fun and food (as long as you keep them away from the Guinness!). New for this year, the festival now has a bigger paw print – er, footprint – with the addition of a pet pavilion in the Grand Place, dedicated to dogs and other friendly pets -- lots to get your tail wagging. Attendees can search for a new pet in the largest gathering of animal rescue groups in North Texas. Last year alone, almost 150 animals found new homes through the festival. This year, your dog can sport a new, canine-custom bandana or fleece vest, embroidered with "North Texas Irish Festival" and made by Dallas Lighthouse for the Blind as a special fundraiser for the 38 animal rescue groups that will be on-site at the festival, starting at just $10.
Thank goodness dogs love music, because the heart of this festival, an all-volunteer effort produced by the Southwest Celtic Music Association (SCMA), is a celebration of music that will have you tapping your toes and paws. The North Texas Irish Festival features top Irish musicians, dancers and storytellers from around the world and a variety of cultural presentations on 13 stages at Fair Park.
"Music is at the very heart of our festival, just as it is in Irish culture," said Sheri Bush, president of the SCMA. "We draw the best musicians from the world over to Dallas for these three days, and it's heaven on Earth for music lovers!"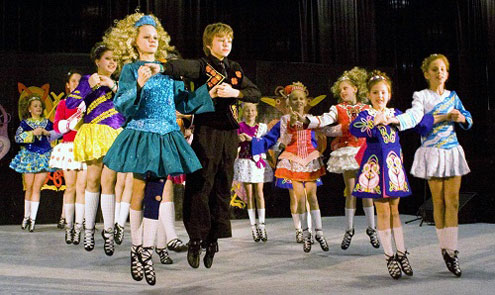 After all that music and dancing, hungry appetites can be satisfied with Irish stew or Shepherd's pie from one of the many food booths featuring traditional Irish cuisine, and wash it down with a glass of Irish Guinness. On the Tom Thumb Culinary Stage, cooking presentations will take place from top chefs such as: The Celtic Caterer Eric McBride, Irishman David Smith of the Westin Galleria, John Franke of Whiskey Cake, Bob Stephenson of F&G Eats, Scott Jones with Jack's Southern Comfort Food, and Caris Turpen of LightCatcher Winery in Lake Worth. Each chef will personalize an Irish classic with new flavor twists, or cook new dishes with traditional Irish ingredients such as Guinness, presenting fare that attendees can then sample. One dish served will be cooked from a recipe that is more than 5,000 years old! Whiskey tastings will whet whistles for the over-21 crowd with a little Irish magic.
Musicians
International headlining performers at the 32nd Annual North Texas Irish Festival include: Natalie MacMaster and Donnell Leahy, Solas, Dervish, Nuala Kennedy Trio, Makem and Spain Brothers, Ed Miller, The Máirtín de Cógáin Project, The Town Pants, and We Banjo 3. Featured performers from the North Texas area and as far away as Florida, Kansas and Tennessee include: 5 Second Rule, BEHAN, Beyond the Pale, Blaggards, Blue Fiddle, Celtica, Coyne and Reeves, Don Gabbert, Finnvara's Wren, Flashpoint, Irish Rogues, Jiggernaut, Jigsaw, Michael William Harrison, North Texas Caledonian Pipes & Drums, Poor Man's Fortune, Seamus Stout, Sweet Colleens, Tea Merchants, The Jig Is Up!, The Selkie Girls, Threadneedle Street, Trinity River Whalers, Tröen, Tullamore, and Vintage Wildflowers. The music goes on all weekend and encompasses myriad approaches to Irish music.
Dance
The colorful traditional and modern Irish dancers with their hand-embroidered dresses and fast foot- tapping rhythms will delight audiences at the festival. Some of the finest dancers in the world are located in local schools in the DFW Metroplex, including the well-known Emerald School of Irish Dance, the Shandon School of Irish Dance, the McTeggart Irish Dancers and the Maguire Academy of Irish Dance. Performers from these schools will delight audiences with continuous performances on the dance stage. In addition, there will be dance workshops throughout the weekend, and everyone is encouraged to get into the spirit of Ireland at Saturday night's Dance "Ceili," a traditional Irish party led by a local Irish Dance instructor.
Cultural
The North Texas Irish Festival brings together a wide variety of exhibitors, workshops and demonstrations. Storytellers -- or "seanchaí" in Gaelic – will perform traditional Irish stories in the way that the Irish learned of their history for hundreds of years on the Schanachie Stage devoted to this historic craft. Urchin Street will offer a special place where kids can find entertainment, education, play and fun, including crafts, music, dance, storytelling, magic and mystery. The Spirit of the Celtic Horse and several other equestrian shows, blacksmithing, archery and other amazing demonstrations will be performed in the Marine Square and Fountain Plaza area of Fair Park. And not to forget that the Irish do love their "sport," hurling and Gaelic football will also be featured throughout the weekend and in two special demonstrations.
The "First Texas 'Ceili" (pronounced "kay-lee" and meaning "gathering" in Gaelic) was held in 1983 at a local Oak Lawn pub and has grown into the largest celebration of Irish culture in the Southwest as the 32nd Annual North Texas Irish Festival, presented by the Southwest Celtic Music Association, a 501(c)3 organization dedicated to providing music and dance scholarships and supporting other major Celtic cultural events in DFW. The North Texas Irish Festival is one of the most respected Irish festivals in the U.S.
Hours, Admission and Location
Gates open on Friday evening, Feb. 28, at 6 p.m. Hours are 6 to 11 p.m. on Friday; 10:30 a.m. to 11:30 p.m. on Saturday, March 1; and 11:30 a.m. to 7:30 p.m. on Sunday, March 2.
Tickets can be purchased online at www.ntif.org. Admission is FREE on Friday from 6 to 7 p.m.; $10 after (50% off coupons online at www.ntif.org). A one-day ticket is $20 on Saturday and $15 on Sunday at the gate, while a two-day ticket is $25 and a weekend pass is $30. Discount tickets are available at area Tom Thumb stores. Children 11 and under are FREE when accompanied by adult family member. Seniors over 65 or current military members (with valid military ID) receive $5 off all gate prices. Dogs are allowed in on a short leash with a $1 requested donation to animal rescue groups supported by the festival. Leprechauns (in full ceremonial dress and carrying pot of gold) are FREE.
Parking is available in and around Fair Park, or attendees can take the DART Green Line (take the Green Line and save some green!) to the front entrance of Fair Park and the North Texas Irish Festival. Detailed directions and parking tips are available at www.ntif.org. The public can call 972-943-4616 or visit www.ntif.org for more information or to volunteer to work at the festival.
About the Southwest Celtic Music Association
The Southwest Celtic Music Association (SCMA) is the producing organization for the North Texas Irish Festival. More than 600 volunteers will help in organization, promotion and execution of this year's festival. The first such festival was held on March 5, 1983 at the legendary Nick Farrelly's Lounge on Oak Lawn and was billed as the First Texas Céili.
This event was so popular that it has continued every year since on the first weekend in March as the North Texas Irish Festival. Shortly after the first festival, the all-volunteer Southwest Celtic Music Association was formed to promote the study, performance and preservation of traditional Celtic music, dance and culture.
In 1984, the event was moved to Fair Park and its name changed to the North Texas Irish Festival. The Southwest Celtic Music Association is a 501(c)3 not-for-profit cultural corporation headquartered in Dallas, TX, and serves a five-state regional area. The organization maintains a web site at www.scmatx.org