Entertainment
Grayson College presents Glengarry Glen Ross Feb. 20-22
Feb 21, 2014
Grayson College's Theatre Department is tackling a difficult project in its presentation of Glengarry Glen Ross nightly at 7:30 p.m. Feb. 20-22. The Pulitzer Prize-winning play is a fast-paced drama that features an all-male cast, intense storyline and explicit language.
Written by David Mamet, one of the most prominent American playwrights in theatre today, Glengarry Glen Ross deals with the struggle and desperation that businessmen experience when trying to make a living in the cut-throat world of real estate and explores what it takes to make money and stay on top. Famous for his "Mamet speak," which describes his ability to write in the way people really talk, he is known for writing plays about male issues or from a male perspective.
"Since we have so many men in our theatre department this year, we felt like this was a great choice," said Robin Robinson, GC professor and director of theatre. "There are only seven roles in this play, and it is very wordy. David Mamet is known for using lots of curse words because his characters talk that way. At 40 minutes, the first act is short but the dialogue is very fast-paced. The second act includes lots of movement, conflict and suspense due to the plotline."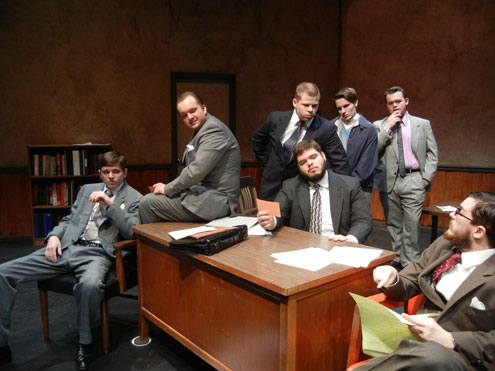 Dakkota Foster, Gabe Parker, Alex Watkins, JT Medders, Cory Taylor, Brandon Langston and Aaron Hogue in Glengarry Glen Ross at Grayson College February 20-22.
While Glengarry Glen Ross is more explicit and intense than most productions at the college, it fits into GC Theatre's mission to offer a diverse season with different genres for students to experience. In Black Snow last fall, they learned about Russian constructivism, presentational performance and Russian theatre. Later this spring with Commedia Pinocchio, they will perform for young audiences in a commedia style that is very physical and comic.
"Glengarry Glen Ross allows the actors to work on three-dimensional characters, realism, and to experience Mamet," Robinson said. "It is the kind of challenge we want our theatre majors to experience. Not many freshman and sophomores can say they have 'done Mamet,' and this play will allow our students to grow as actors and as technicians."
The drama is presented in the Black Box Theatre in the Arts & Communication Center on Grayson College's Main Campus in Denison. It will be set up in an "L" configuration, which is a new approach for Grayson. The challenge is that there will be a complete set change during intermission since it has two locations. Tenna Matthews, professor of theatre, is designing the set and the lights to create two worlds in a small space in a short span of time.
"The advantage of the Black Box is how intimate it feels," Robinson said. "This is a great venue for this play because the audience will be so close to each character and feel as if they're part of the action."
Cast members include: Anna freshman Alex Watkins as Baylen; Anna sophomore Aaron Hogue as George Aaronow; Bonham freshman Gabe Parker as Dave Moss; Denison freshmen Dakota Foster as John Williamson and Brandon Langston as Shelley Levine; Sherman freshman Cory Taylor as Ricky Roma; and Trenton freshman J.T. Meadows as Jim Lingk.
In addition to Matthews and Robinson, crew members are: Cooper freshman Brandon Stockton, assistant director; Houston sophomore Nick Ellis, costume design; McKinney freshman Dustin Meadows, props; Pottsboro freshman Jordan Moore, sound board operator; Rowlett freshman Ryan Ramirez, assistant stage manager; Rowlett sophomore Jasmine Shannon, stage manager; Sherman freshmen Madison Sisemore, wardrobe, and Tommy Stowers, master carpenter; and Texarkana sophomore Skyler Alton, light board operator and master electrician.
Tickets are free for "Glengarry Glen Ross," and reservations are encouraged because seating is limited. For reservations or more information about either show, contact the GC Theatre Department at 903-463-8609 or theatre@grayson.edu .