Front Page
Bonham Area Chamber of Commerce awards Agriculturist of the Year for 2013
Feb 14, 2014
The Agriculturist of the Year award presented by the Bonham Area Chamber of Commerce recognizes a farmer or rancher who lives and works in Fannin County. When they make an effort to support our local business establishments whether it be to buy fuel, vehicles, or feed they help our local community. When they support our local auction barn by selling animals there or our local banks by working with them for financing they are helping support the local community.
This year's winner was born in Lamar County but moved with his family to the Windom area in 1949. After graduating from Windom High School, he attended what is now Texas A&M University-Commerce on a working scholarship at the college farm. He said his work on the college farm, which included providing milk and meat products for the college, was the most maturing experience of his life and he would not have traded that for anything.
In 1956, he graduated with a bachelor of science degree in vocational agriculture but his most cherished event that year was his marriage to Shirley Chandler on December 29, 1956. He began his teaching career in 1956 at Seminole, Texas teaching fifth grade students. However, he was still subject to the draft deferment as the Korean War was still winding down, and he was drafted into the Army in November 1957. After his basic training, he had the opportunity to go through Signal Core School. This led to his assignment to the Whitehouse in Washington, D.C. where he worked with coordinating military communications for the Eisenhower administration. After his two years of service in the Army, he went back to teaching at Seminole.
In 1967, he had the opportunity to come home to Fannin County where he served as the Bonham Elementary School principal for 28 years. During these years, he and his brother Charlie operated a farming and cattle operation partnership in Fannin County until Charlie passed away in 2009.
He owns and leases 3500 acres and has cattle, wheat, soybeans, milo and hay and he sells his crops and cattle locally in Fannin County. He also said that over the many years that he and his brother Charlie farmed together, they custom sprigged probably over 50% of the coastal Bermuda that is currently growing in Fannin County and the surrounding area.
While serving as an elementary principal and farming and ranching, he has also been a long time member of First Baptist Church in Bonham, Past President of the Lions Club, and has provided continuous service to the Fannin County Teachers Federal Credit Union where he has served as Board President for 42 years and is still serving in that capacity.
He has been married to his wife Shirley for 57 years, and he has a love for God, his family, agriculture, children's education, military service, and community involvement. He is very devoted to the local area and has contributed in many ways to Bonham and Fannin County over the years.
It is with great honor that the Bonham Area Chamber of Commerce presents the Award of Agriculturist of the Year to Billy Don Manhart for 2013.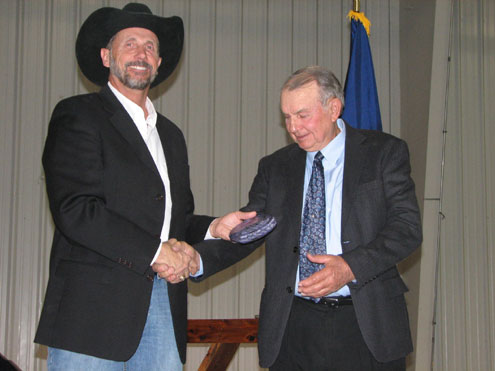 (L-R) David Stapp and Don Manhart