Front Page
World War I and the black community of Fannin County
Feb 14, 2014
The United States' formal involvement in World War I began on April 6, 1917 and ended at the war's end on November 11, 1918. The citizens of Fannin County were impacted by the war in many ways, including sending their young men to war as a result of the draft and the imposition of rationing.
The draft applied to all male citizens between the ages of 21 and 31, including, of course, black men. Although blacks were drafted and sent to training camps, such as Camp Travis, most blacks did not serve in combat units but instead served in labor battalions.
The county was impacted by rationing in a number of ways. The Bonham Daily Favorite announced on January 2, 1918 that all lights for businesses, such as theater signs and display signs, would be off for two nights a week to conserve fuel. Hotels and restaurants were required to have one wheatless day each week, one meatless day each week and one porkless day each week. On January 23, 1918, Bonham grocers agreed to make only morning deliveries to save fuel.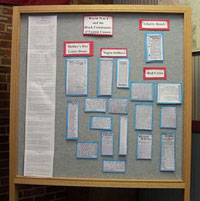 The front pages of the 1918 issues of the Bonham Daily Favorite are composed almost entirely of war news. The Bonham Daily Favorite also provides, on almost a daily basis, a report on the activities of the Fannin County draft board and other war-related activities of Fannin County citizens such as the Red Cross, etc.

There are a number of articles relating to the black community.

January 2, 1918 – The children of the colored school have organized a Red Cross chapter.

March 21, 1918 - The Negroes of Bonham held a Red Cross rally and will organize a Red Cross Auxiliary.

April 2, 1918 – Twenty-three colored boys left for training camps in San Antonio after a dinner and remarks by two colored preachers.

April 13, 1918 – Fannin County must send 88 more soldiers to Camp Travis, of which 45 will be colored boys.

April 25, 1918 – An article reports that the colored people of Fannin County were buying Liberty Bonds, with $2,150 being subscribed to by the colored community of Ravenna, $2,350 from Bonham and $1,185 from the Lone Star Church.

April 29, 1918 – Thirty-three young negro men left for training camp.

April 30, 1918 About 50 members of the colored auxiliary met at the East End church. They made bandages and raised $28.75 in cash.

May 18, 1918 The colored Red Cross drive began with a big meeting at the First Baptist church at Locksboro.

May 29, 1918 The Favorite reports that the colored citizens had raised $821.51 for the Red Cross, including $413.90 from Bonham.

June 11, 1918 The Favorite reprinted a letter that Private Bishop Dale, Company C 507 Engineers, wrote to his mother on Mother's Day from France.

June 14, 1918 The Favorite provides a list of 37 negroes from throughout the county to be sent to Camp Travis.

July 13, 1918 The Favorite published an article about an old-time negro from Ravenna who was a slave of about 10 years old during the Civil War. He has two sons overseas, one in France in a motor truck division and the other taking training in England.

July 17, 1918 – Seventy negro soldiers left for Camp Travis.

August 8, 1918 – A good colored friend wrote to say that he had three sons and two grandsons in the Army.

August 22, 1918 – Thirty-five colored boys left for Camp Travis.

All of these articles and more will be on display at the Fannin County Historical Commission as part of Bonham's Black History celebration from Wednesday, February 19 through Friday, February 21 from 1-5. The Historical Commission is located at 1 Main Street in Bonham adjacent to the Fannin County Museum of History.