Local News
Great Backyard Bird Count Feb. 16 at Hagerman
Feb 16, 2014
The Great Backyard Bird Count, a nationwide citizen science project set this year for February 14-17 will be observed at Hagerman National Wildlife Refuge with a guided bird walk on Sunday afternoon, February 16, at 1 pm.
Dr. Wayne Meyer, Associate Professor of Biology at Austin College, will lead the walk at the Refuge, along one of the five trails at the Refuge and bird sightings will be reported to the Great Backyard Bird Count.
Participants will meet at the Hagerman National Wildlife Refuge Visitor Center. There is no charge for participation, but walkers should dress for the weather and bring binoculars, etc. Some binoculars are available for loan, at the refuge. The walk will not be held in case of bad weather.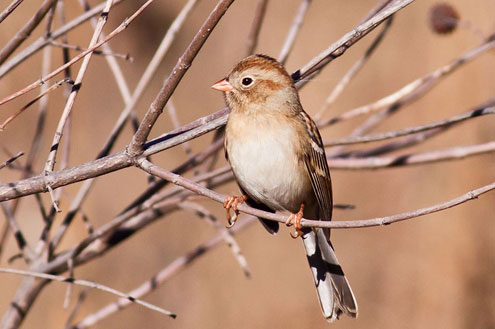 photo of Field Sparrow by Laurie Sheppard
For more information, call the Refuge, 903 786 2826.Hagerman NWR is located at 6465 Refuge Road, Sherman, on the Big Mineral arm of Lake Texoma.