Entertainment
Harmony House Concerts welcomes singer-songwriter Andrew McKnight March 2
Mar 2, 2014
On Sunday, March 2, 2014, 3:30 p.m. - 5:30 p.m., Andrew McKnight will entertain guests at Harmony House Concerts located 10 miles north of Bonham, TX, and 65 miles NE of Dallas area. As the Boston Globe wrote, "With a voice reminiscent of Don McLean, McKnight traverses from old-time Appalachian tunes to contemporary folk and blues, all backed up by his dead-on guitar playing."
A brief "bio" about Andrew appears below, but to get a full picture of his work both in the music world and in making this world a better place, visit his website, www.andrewmcknight.net You can also listen to songs from his CDs, view a sample video of Andrew in concert, and find out how to locate other videos on YouTube.
Make reservations by calling 903/583-2661, stating the number of seats desired and leaving your contact information (preferably e-mail address). The suggested donation is $15 per person with all proceeds going to the performing artist. To prepay, make checks to Andrew McKnight and mail to Faye Wedell; P.O. Box 812; Bonham, TX 75418, to be received by Wednesday, February 26th. Refunds will be made to any persons having to cancel by that same date as well. Guests may choose to pay at the door, but please respect Andrew, who chose to leave the corporate world in 1996 to become an American troubadour from Appalachia, by either showing up or paying for your reservation, unless canceled in advance.
Andrew will captivate each of you with his gifts of poetry & storytelling interwoven with his diverse, original songs that will take you down the highways and back roads of rural America. He will play two 45-minute sets, with a 30-minute intermission for folks to enjoy conviviality and goodies provided by hosts, Faye and Scott.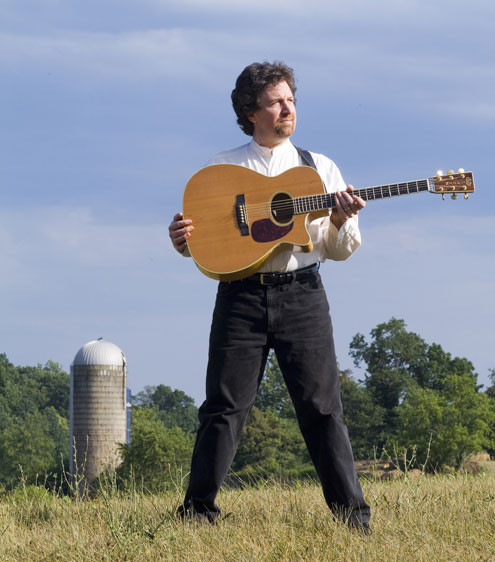 photo by Sarah Huntington
There will be bottomless cups of coffee, tea, and assorted punches, as well as tasty treats available. Should you want to contribute a $1 cash donation to help defray costs, you can find a basket for those donations on the breakfast room table. Andrew says that about 1/3 of his performances are house concerts like those here at Harmony House, where hosts like Faye and Scott create a mini-Carnegie Hall in which you can enjoy the nuances of wood & air, strings & stories, up close! To learn more about Harmony House and Wildscape Acres, visit www.WildscapeAcres.com.
After the concert, you are invited to stay for the Optional Stew & Cornbread Potluck Dinner. When making reservations, please indicate whether you plan to partake of the dinner portion of the evening. You might share your favorite stew recipe, a salad, bread, or a yummy dessert with others. If you plan to stay, it helps Faye with menu variety if you notify her of what you plan to bring. Staying for dinner affords you the opportunity to get to know Andrew, like a neighbor, and also enjoy being with old and new friends from "our music community". Following dinner, if you wish to "take off your hat and stay a while", bring your instruments (voices, toe tapping, and drumming on your lap included), and we'll have an old-fashioned Pickin' Party.
Andrew's brief "bio":
Singer/songwriter and guitarist Andrew McKnight's five CDs and captivating performances showcase his engaging collection of songs and stories celebrating the lives and landscapes of rural American people with warmth and humor. Since permanently leaving his corporate environmental engineering career in 1996, the award-winning folk and Americana artist has traced half a million miles of blue highways and backwater towns, and earned critical acclaim and enthusiastic fan response. His music and messages are always compelling, infused with his literate prose, eye for intriguing detail, and soundscapes that span haunting blues, feisty anthems, rustic folk, and a bit of swing.
"Relating story after story and song after song, often combining his interest in geography, history and a keen eye for the human spirit, Andrew presented a night overflowing with fantastic original material which could only be rated with Blue Ribbons, 5-Stars and a couple of thumbs up."
~ Tidewater Friends of Folk Music, Norfolk VA
"...blends wry and romantic stories with keen tuneful observations in a delicious mix of folk, blues and bluegrass... a man not to be missed!" -~ The National Theatre, Washington DC