Front Page
Kathryn's Texas Kitchen
Feb 9, 2014
My column last week about lobster rolls brought back some wonderful memories to my beloved Aunt Peggy.

She is my Mother's younger sister and she lives in beautiful, historical San Antonio these days.

Aunt Peggy and 4 other nuns were visiting Maine several years ago.
"We ate at a lobster place in Maine," Aunt Peggy recalls. "We also saw the famous statue of the Fisherman with the quote 'down to the sea in ships.' The lobster roll is U shaped, with a flat bottom. It tasted like a hotdog bun. The first time eating it the shape throws you off. First time I have remembered the experience in a long, long time: sitting on a big porch of a white clap-board house on what a southerner would call a wide veranda with 4 other women at a picnic table eating/seeing/experiencing lobster rolls for the first time. Quite a discussion followed the delivery of the meal by 5 of us. We found out that the buns come in this shape at the grocery stores."
I love that some columns I have writen brings back memories to anyone, especially those I love. Now we all must try making or at least eating lobster rolls! A great Valentine's meal followed by this wonderful dessert. That is if you choose to not eat out and spending all that moolah!
According to Wikipedia, the French began cultivating strawberries in the 1750s apparently from a cross of two different plants from Chile and Eastern North America. But history tells us that they were eaten many years before that, actually 234 B.C. in Italy.
Chocolate dipped strawberries are said to have been invented in the 1960s in Chicago, Illinois by Lorraine Lorusso. According to ask.com she sold them at a local store called Stop 'n Shop. We once had a Stop 'n Shop on 9th street in Bonham, Texas, but the two stores weren't related.
From personal experience I know that my daughter's sister-in-law, Dr. Carrie, makes the best chocolate dipped strawberries in North Texas. Whenever she enters a family gathering with these favorite delights, her tray is half empty before she gets from the front door to the kitchen to set the tray down. And that's before the appetizers and salads have even been eaten. You have to quickly grab a couple to get any for your dessert.That's how truly wonderful Carrie's chocolate dipped strawberries are.
Chocolate Dipped Strawberries
Recipe adapted from Paula Deen& Friends
Makes about 2 cups
1 12-oz package semisweet chocolate chips
1 14-oz can sweetened condensed milk
1 tsp vanilla extract or liqueur
2 pints strawberries, washed but left unstemmed
Place the chocolate chips and milk in a 3-cup glass dish. Microwave on high for 1 minute and stir. If not completely melted, microwave for 15 seconds more. Stir. Repeat if necessary. When completely melted, stir in the condensed milk or vanilla.
When ready to serve, reheat in the microwave over low power until warm. Place in a fondue pot over a very low flame. Surround with strawberries. Stir often to keep the sauce from scorching.
A delightful shrimp dish is on the chalkboard menu for Kathryn's Texas Kitchen.
Until next time,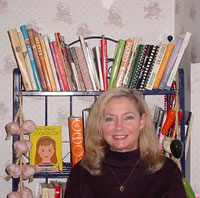 Bon appétit!