Front Page
TravelQuest -- Africa
Feb 9, 2014
Over the years the Bonham/North Texas GET (Great European Tour) group has provided readers of North Texas e-News a daily photo tour of their activities. From February 15 - March 2, the group will venture into Tanzania and Zanzibar for a photo safari followed by four days of events in Zanzibar.
In the past, former Bonham resident Don Dodson has led these groups but this time it will be a family affair with his son, Robert, scheduling and making arrangements for the group of thirty-six. The time was chosen for the best chances to see The Great Migration on the Serengeti. This will be Robert's fifth trip to this region, the last only two months ago where he also photographed the wild mountain gorillas of Rwanda.
The group will travel in vans of six, with lodging in the various wildlife parks they will visit.
One of the highlights will be a sunrise hot air balloon ride over the Serengeti, followed by a white glove Champaign breakfast. The group will also visit a Maissai village and the Ngorongoro Crater.
Below are photos from previous trips taken by Robert Dodson. Robert is an attorney with a passion for nature and wildlife photography. He travels throughout the world on photographic ventures.
African Safari
February 15-26, 2014
The Great Migration · Ngorongoro Crater · Serengeti · Lake Manyara × Tarangire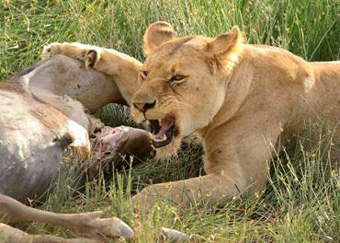 Robert Dodson
Introduction
For the first time, our group will venture from Europe and onto the African continent for an all inclusive trip through some of the most spectacular wild animal sights on the planet. As always, this trip will be non-profit which means that revenues go back into the costs of the trip itself. This one will be all inclusive, with the exception of personal purchases and air fare (from anywhere in the USA). More below about costs. Because of the nature of this trip, it will be small. We'll travel with a licensed guide for every six participants, handpicked by personal experience.
Through the pictures, taken by your host and photographer, Robert Dodson, and descriptions, we'll travel Tanzania in 4 x 4 vehicles, all with your personal guide, each with a window seat, and a pop-up roof for standing, viewing and photographing.
A Word from Robert Dodson:
Robert has been on several of our GET trips, and is the son of Don and Carol. He is an attorney in Columbia, SC, and is an avid traveler and wildlife photographer. He has been all over the world photographing wildlife, and will provide helpful tips before and during the trip, even if you a use an aim and shoot camera.
I have had many amazing travel opportunities in my life and have been able to see and do things that could easily be considered the trip a lifetime--from hiking the remote Himalayan mountains in Nepal to photographing a charging brown bear in Alaska to exploring the ancient Incan ruins at Machu Picchu. There is nowhere I like better than Africa. The African landscape is wild and untamed yet the people are warm and hospitable. Each time I've been to Africa I've seen things that most people only get to see on television or in the movies –a pride of lions devouring a wildebeest or zebra; a lioness chasing down a zebra to eat; a family of baboons caring for their young; the sleek, slender cheetah – the fastest land animal on Earth; an elusive leopard coming down out of the trees to begin hunting; giraffe silently making their way across the African plains; herds of hundreds of cape buffalo; herds of elephant, gazelle and impala; birds so colorful you would think they were painted. The stories are endless; the sights amazing. This will be my fourth safari to Tanzania. I have planned this itinerary to coincide with the Great Migration. Words cannot adequately describe what the Great Migration is like. The Great Migration is a story of survival. One and half million wildebeest and zebra, traveling together in a massive herd that stretches as far as the eye can see, migrate through Kenya and Tanzania following the rains and the green, lush grass that the rains bring. And these prey animals bring with them the predators – lions, leopard, cheetah and hyena. ~ Robert D. Dodson
DAY 1
Depart United States
DAY 2
Arrive in Arusha, Tanzania. We will be met at the airport by hotel personal and taken to our hotel. We should arrive in time for dinner. One of the nice things about flying into Tanzania is that the flights arrive in the early evening so you can eat dinner and head straight to bed. The next morning your internal clock will be reset and you'll be ready to go!
DAY 3
After sleeping in and enjoying a leisurely breakfast, our safari guides will meet us at the hotel and brief us on the safari experience. After a short orientation, we head to Tarangire National Park. Tarangire is different than the other areas we will visit later in the trip because rivers and underground water sources keep many areas within the park lush and green even in the "dry season". The abundance of water makes Tarangire prime habitat for large herds of elephant. The thick brush is also a good habitat for the elusive leopard, and we have a good chance of spotting a leopard here.
DAY 4
After breakfast we will spend a full day inside Tarangire National Park on a game drive. In addition to elephants, Tarangire hosts a variety of other animals including giraffe, impala, gazelle, warthog, and ostrich. We'll enjoy a picnic lunch inside the park. Just be careful to tend your food because monkey, baboons and birds have become adept at stealing treats. As the sun starts to set we'll return to our hotel where we can enjoy happy hour at the hotel's bar including one of the local beers. After the sun goes down you'll be amazed at the number and brightness of the stars.
DAY 5
After a hot breakfast, we will depart Tarangire National Park for Lake Manyara National Park. We will arrive at Lake Manyara in time for lunch. The road from Tarangire is new and good and the trip is only a few hours. Along the way, you'll see more in the way of traditional Maasai dress and we will stop along the way to visit a Maasai village. After lunch there is time for a swim at the hotel's pool. That afternoon we will have a game drive in Lake Manyara National Park keeping a lookout for the Park's famous "tree climbing" lions. In addition to these lions, we will likely see elephant, giraffe, zebra, baboons, monkey, warthogs, impala, a large number of birds and possibly the elusive leopard. Lake Manyara has a "hippo pool" and we'll be able to get out of the vehicle and watch the hippos as they bask in the sun and fight with one another.
DAY 6
After breakfast we will depart for the Ngorongoro highlands and Ngorongoro Conservation Area. The drive is short and scenic as we enter the mountains. The Ngorongoro Crater is a UNESCO World Heritage Site and has been described by some as one of the Seven Wonders of the Natural World. The crater itself is part of an ancient volcano that became extinct millions of years ago. The cone of the volcano collapsed in on itself, which eventually formed a completely contained eco system. We will arrive here in the early afternoon and you will be free to rest and relax or take a guided nature walk with one of the local Maasai along the crater rim.
DAY 7
Today we will travel approximately 30 minutes to the crater floor in order to enjoy an African sunrise inside the crater with a boxed breakfast. The early start will give us a couple of hours by ourselves on the crater floor without having to deal with others on safari.
The Ngorongoro Crater is one of the most densely populated areas in all of Africa for wildlife viewing. Here we will look for lions, cheetah, leopard, serval cat, hyena, hippos, cape buffalo, elephant, zebra, wildebeest, giraffe, gazelle and more. Ngorongoro is also home to approximately 25 black rhinoceros. The black rhino was hunted to near extinction for its horn but conservation efforts in Ngorongoro have started to have a positive impact on the rhino's population. After a picnic lunch on the crater floor we will depart for the vast plains of the Serengeti. We should arrive at our hotel in order to freshen up for a late afternoon game drive.
DAYS 8-10
The next three days of our safari adventure will be devoted to exploring the vast Serengeti and all it has to offer. We are spending so much time in the Serengeti because of the size of the park itself and because of all it has to offer.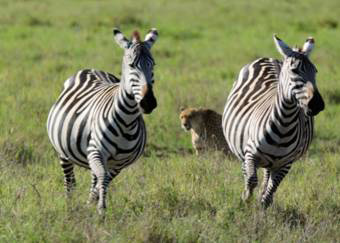 Robert Dodson
The Serengeti is literally home to millions of large game animals including the wildebeest and zebra who roam through the park from Kenya in search of green pasture lands for grazing. The wildebeests, zebra, gazelle and impala also attract the predators and big cats – lions, leopards and cheetahs. Our extended time here should allow us to see plenty of lions and cheetah and probably a leopard or two as well.
We will have several options for our time in the Serengeti – we can take full day game drives with a picnic lunch to explore far and deep into the park. Or, we can break up game drives into shorter morning and afternoon drives with lunch at the hotel and an afternoon swim in between. The Serengeti also has the "usual suspects" for an African safari – elephant, rhino, hippo, warthog, giraffe, hyena, baboon, monkey, ostrich, crocodile and a host of colorful birds for the birding enthusiasts.
DAY 11
Today, we will leave the Serengeti for Arusha. Despite the time we have spent here, you'll wish we had longer. Flights from Africa leave at night and we'll have plenty of time to catch our flights back to the United States.
FOR THE LAST DAY
Those of you who won't be going straight home we will have you at your hotel in time for dinner. If there is an interest, we can also arrange post trip hikes up Mt. Kilimanjaro, the highest free standing mountain in the world, or a beach excursion to the colonial port city of Zanibar.