Local News
A message from Willow Wild Cemetery Association
Feb 6, 2014
There's a lot going on at Willow Wild! As the first year of the Willow Wild Cemetery Association, Inc.'s (WWCA) official operation comes to a close, WWCA expressed gratitude for out-going Directors, Cindy Baker Burnett, Cathy Denton Taylor, Carol Hogue Beck, and Susan Meade Bennett who provided invaluable guidance and energy that fueled a very successful year. While they're stepping off the board, they are continuing their support of Willow Wild.
AN UPDATE ON THE BOARD OF DIRECTORS
In September, the bylaws were revised to reduce the official number of directors to five. The board welcomes Gary Porter to fill the remainder of Cindy's term. He has been working diligently since the beginning of Concerned Friends of Willow Wild and has done an outstanding job of building a stunning website and growing the association's base of support.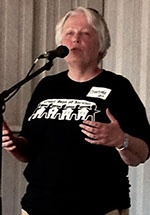 Charlotte Watson, Association President

Gary will also serve in the position of secretary as Charlotte Watson moves into the position of president. Parker McComas remains as treasurer where he's been helping WWCA to meet obligations and to prepare for the future. Lou Ashmore Brown and Barbara Gore remain on the board and continue to help develop financial and community support for the maintenance and growth of Willow Wild.

CEMETERY ASSETS TRANSFERRED TO THE NEW ASSOCIATION

In December, the Commission completed transfer of all assets to the Willow Wild Cemetery Association, Inc., including cash in the amount of $1,473.37 and landscaping and funeral equipment. The equipment is in various states of repair and eventually will be liquidated.

A STATEMENT FROM THE ODDFELLOWS

"The Oddfellows wish for the new Association the best of luck, and it is our hope that the Association will help the destitute of the community when there is a need." -- James Daniel, Grand Secretary of the Oddfellows

COMPUTER DATABASE UPDATED WITH CAROLYN LAWRENCE AS VOLUNTEER SERVICE MANAGER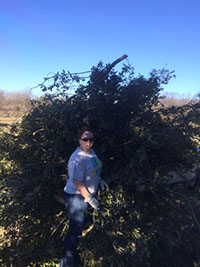 Samantha McComas-Baker volunteered to help clear downed tree-limbs after the recent ice storm.

Volunteers have worked hard to clean up the office and to begin plumbing and other repairs including the removal of downed trees from the recent ice storm. Now that the Association has full responsibility for Willow Wild, cemetery records are being entered into a modern, computerized database. Carolyn Lawrence has been doing a great job as volunteer Service Manager. She answers the phone and takes care of all the details that follow.

Gary serves as Carolyn's back-up. So, if you call Willow Wild, you will be greeted by Carolyn or Gary. If you would like to lend a hand sprucing things up or helping to build a stronger financial base through fundraising or connecting us with businesses who might partner with us, or purchasing a lot, please call and speak with Carolyn at 903-583-3437.

NEW OPPORTUNITIES FOR BUSINESS DONATIONS & OTHER FUNDRAISING ACTIVITIES

Here's an example of how a business might partner with Willow Wild. Love Monument Company of Sherman will make a $25 donation to the Willow Wild Cemetery Association for each monument they set at Willow Wild. They will also provide info to make available on the proper care and maintenance of monuments. North Texas Paint and Rental Center donated temporary storage for the fireproof filing cabinet until WWCA gained possession of Willow Wild. Brookshires and Walmart have contributed items for Dinner on the Grounds in the past. A page on the Willow Wild website, www.WillowWild.org, is being created to recognize partners. Do you know any business that might support Willow Wild?

PARTICIPATION IN COMMUNITY EVENTS, WATER BILL DEFERRED BY THE CITY

If you are on a Bonhi reunion committee and would like to have someone from Willow Wild speak at your reunion or to your committee, please call or email

info@willowwild.org

. WWCA would also like to speak to churches or civic groups. Volunteers are available to participate in community events. Willow Wild is a community treasure, and the association wants to be a great neighbor. After all, Willow Wild residents built Bonham and cared so much for all of us. We honor them by giving back.

Look for the WWCA at Heritage Day. Then join the association the following weekend for Dinner on the Ground on May 10 where WWCA will recognize out-going board members, as well as the former Commission, the Masons, and the Oddfellows for their many, many years of stewardship of Willow Wild.

WWCA worked out an arrangement with the City of Bonham to delay the onset of water bills. Given the extended drought and the high cost of water, WWCA asks that water use be curtailed as much as possible.

THANK YOU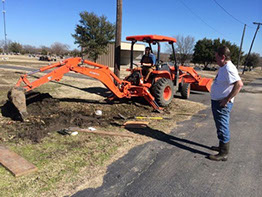 Brian Buchan of Plano volunteered to fix a water leak, with help from Brad Lacy and Ben Lawrence.

And finally, the association would like to thank you all for your care and concern for Willow Wild. WWCA is committed to restoring the cemetery and will only be successful with your help. Keep an eye on the website. You never know what might happen in the next installment of The Plot Thickens or what beautiful sight might be captured and posted here. And feel free to drop a donation by clicking the button below or to become a monthly contributor through the website.

Did you notice that there was not a word here about pending legal matters? There are none! A great big thank you to Bill Terry for his dedication and masterful legal representation and to Pam Thompson for dotting all the i's and crossing all the t's.

And now, it's up to ALL of US! The Willow Wild we have today and tomorrow will be the Willow Wild we create and care for together.