Local News
Honey Grove library announces new book/film club
Feb 4, 2014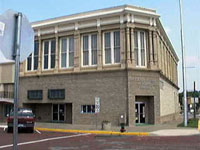 The Bertha Voyer Memorial Library in Honey Grove announces a new book and film club, which is a follow-up to its successful History Book Club of last fall.

The new film/book club is based on a project by the National Endowment for the Humanities and The Gilder Lehrman Institute of American History. The Bertha Voyer Memorial Library is one of 473 institutions across the country awarded a grant for this project.

The "Created Equal: America's Civil Rights Struggle" will use the power of award winning films with readings and books to learn about Abolitionists, Freedom Riders and the struggle of African Americans after the Civil War.

Beginning on Thursday, February 6 from 5:30-7:00, participants will see portions of the award winning films and discuss the films and associated readings. A light dinner will be provided. The schedule going forward will be discussed on February 6.

Please contact the library at 903-378-2206 if you think you might be interested in participating so that we will be able get an idea of the number of books to order. However, it is not necessary to sign up in advance, and participants may attend as many or as few of the sessions as they wish.

We hope to see you on February 6. Feel free to contact Barbara Caffee, project coordinator, for more details on the films and the readings.