Local News
Downtown Denison introduces Valentines Giveaway with designer window
Feb 12, 2014
A special designer window was created at 310 W. Main in Downtown Denison to help showcase a Valentines Giveaway. Volunteers created the showpiece in a vacant storefront using items contributed by downtown merchants for a drawing and props. The window took 72 volunteer hours to create and cost less than $200. Most of the purchased items or props will be reused in future displays.
Denison Main Street hopes volunteers will continue creating these designer destination windows. Visitors who check out the displays will hopefully see other beautifully decorated businesses while they admire the artist creations.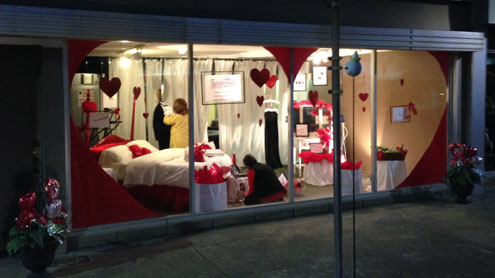 Volunteers Valerie Freels and Linda Shelton put finishing touches on the Valentines Window Display. Items will be given away at the Denison Arts Council's "Dinner and a Movie" at the Rialto on Valentines evening.
The displays generate interest for prospective business owners also. The window is part of an overall effort to create interest in downtown Denison. In addition, various other business development tools are being utilized including a daily downtown cleanup and a support system for new business owners. The results have been positive with a net result of 12 new businesses in 2013. The trend is continuing in 2014 with two new businesses opening to date and three more in the final stages of preparation. Aggressive recruitment efforts are being conducted with community partners in hopes of establishing additional anchor businesses.
Items donated for the giveaway will be presented to one lucky recipient on Valentines Day. Shoppers can register with each $5 purchase at participating downtown businesses from now through February 14. A list of participants and specific prizes valued at $750 can be found at www.DenisonLive.com or Denison Live on Facebook. A complete business listing can also be seen on this website along with other activities and events including a free concert by Shelley McBride and The River at the Rialto on Friday, January 31.
The giveaway, displayed at 310 W. Main, includes an overnight stay in a lakeview room at the Tanglewood Resort. The drawing will be held at the Denison Arts Council's Valentines Movie at the Rialto (need not be present to win).The prize window includes gift certificates and merchandise including clothing, accessories, and artisan items.