Lifestyles
Hawaiian Falls Waco to host 4th Annual Polar Plunge
Feb 5, 2014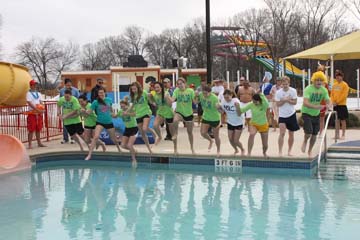 Hawaiian Falls will host the 4th Annual Polar Plunge on Saturday, February 8 at 900 Lake Shore Drive in Waco for folks who are willing to be "freezing for a reason."

The coolest event of the year benefits the Special Olympics of Texas (SOTX). Participants raise pledges to jump into the unheated pool regardless of the weather conditions or outside temperature. Registration begins at 10 a.m. with the Plunge at 11 a.m. sharp.

"Last year's participants lucked out," said Jim Patterson, General Manager at Hawaiian Falls Waco. "The temperature was about 55 degrees when they took the plunge. But they were still shivering for the cause when they got out."

Participants raise a minimum of $60 in donations ($30 minimum for children under 18) in exchange for taking the plunge. All money raised is used to provide year-round sports training and competitions for more than 1,000 athletes in the Central Texas area. Participants are also encouraged to come in family-friendly costumes to compete for prizes for best individual and team costumes. Sorry, no wet suits allowed. More information and registration is available at www.sotx.org/polarplunge or contact Tommy Smith: tsmith@sotx.org or 254-230-4824.

"We'll have complimentary coffee and donuts," said Patterson. "Lunch will also be available for a $5 donation. The Knights of Columbus are donating lunch as well as grilling it up. All proceeds go to the Special Olympics – Heart of Texas."

Special Olympics Texas (SOTX) is a privately funded non-profit organization that changes lives through the power of sport by encouraging and empowering people with intellectual disabilities, promoting acceptance for all, and fostering communities of understanding and respect. SOTX provides continuing opportunities for more than 44,500 children and adults with intellectual disabilities throughout the Lone Star State to realize their potential, develop physical fitness, demonstrate courage and experience joy and friendship. To learn more, visit www.specialolympicstexas.org or call 800.876.5646; Twitter @SOTexas; fb.com/SpecialOlympicsTX; youtube.com/specialolympicstexas.

Hawaiian Falls will hold Job Fairs March 1st and 4th at Parkview Baptist Church on Lake Shore Drive to fill more than 200 seasonal positions. Season passes are on sale at hfalls.com.

Celebrating more than a decade of bringing families closer together, Hawaiian Falls operates water parks in Garland, The Colony, Mansfield, Roanoke and Waco. Texas' first Adventure Park – Water Park combinations are currently under construction in Pflugerville (north of Austin) and White Settlement (northwest of Fort Worth), both of which will open Memorial Day weekend 2014.

Hawaiian Falls' regular operating schedule will be daily 10:30 a.m. – 6 p.m. Memorial Day weekend through Labor Day weekend. More information is available at hfalls.com or facebook.com/hfalls.