Entertainment
Harmony House Concerts presents John Flynn Feb. 9
Feb 9, 2014
John Flynn's music rocks the body, mind, & soul
On Sunday, February 9, 2014, 4:00 p.m. - 6:00 p.m., Harmony House Concerts is proud to present singer-songwriter, John Flynn, of Delaware. John is making a "sweeping tour" of Texas and a few other Southern states, and we feel fortunate that his journey will lead him back down our country road to Wildscape Acres. If you heard him when he appeared here in 2011, you will know what a talented musician John is. If you missed the opportunity to hear him then, don't miss this new opportunity:
The open heartedness and resonant decency in Flynn's work have made him a staple of Phil Ochs Song Nights across the country, and brought him the respect and friendship of longtime heroes like Kris Kristofferson and Arlo Guthrie. Sally Millbury Steen of Pacem in Terris calls John Flynn "A troubadour of justice, mercy and hope."
To make reservations for John's show, call 903-583-2661.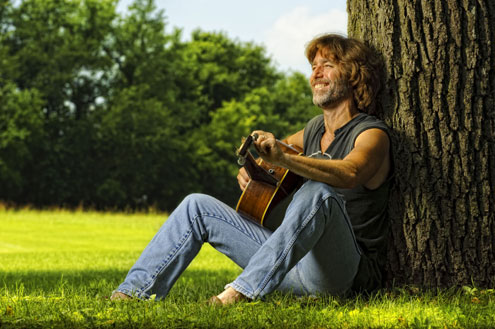 If you leave a message, please indicate the following:
1.) Number of seats desired
2.) Your contact information (phone or e-mail, unless we already have it)
3.) Whether you plan to stay for the Optional Potluck Dinner after the show (more about this later)
4.) Whether you need directions to Wildscape Acres. (www.WildscapeAcres.com, 10 miles north of Bonham, Texas, on a County Road; 65 miles NE of Dallas area).
Reservations are $15 per person, and all proceeds go to the artist. To prepay, make checks to John Flynn and mail to Faye Wedell; P.O. Box 812; Bonham, TX 75418, to be received by February 5th. Also, refunds will be made for cancellations received by that date. You can pay at the door, but please be respectful of the performing artist and the hosts by either "showing up" or paying even if you do not "show up."
John will play two sets, each 45 minutes long, with a 30-minute intermission for you guests to visit with one another or John. You can also refill your "bottomless cup of coffee, tea, or punches" provided by hosts, Faye & Scott, and nibble on "munchies" that they also furnish guests. There will be a basket in the breakfast room for anyone who wishes to make a $1 cash donation to help defray expenses. Harmony House has earned a reputation for friendliness and for bringing quality music to NE Texas in the intimate surroundings of a vintage home located on the prairie.
After the show, an Optional Italian-Style Potluck Dinner, will be held for guests who wish to dine and to get to know John even better. Believe us....he is worth knowing, both for his fine songwriting and for his fine, authentic character, which has led to his work in prisons and with children at risk. See his short "bio" below or visit his website, www.JohnFlynn.net, to get a full picture of this man and to hear his "noteworthy" songs. Any musicians or "wanna-be's", along with lingering guests, are welcome to stay after the dinner for a Song Circle (bring instruments, if you want to participate; bring ears if you just want to listen).
John Flynn's Condensed "Bio":
John Flynn opens his new CD, The End of the Beginning with the lines "Like river stone, it may be that some edges get worn smooth, or maybe it's just that these days you don't have as much to prove." These words seem to capture not only the mood of the disarmingly acoustic release, but also something of the 54 year-old singer-songwriter himself. The End of the Beginning reveals Flynn as an artist and a man, comfortable in own his skin and in full command of his craft. The disc contains eleven songs by Flynn, whom Ramblin' Jack Elliott once called the undiscovered "John Lennon of the Plasma Generation!" (Flynn admits that Mr. Elliott may have been under the influence of an enthusiasm-generating beverage at the time of this characterization.)
In an era of deep division, John Flynn's songs call us together as they speak for the wounded, the weary, and the afflicted; for the prisoner, the soldier, and all the forgotten ones who walk unseen in our midst. Fusing the vision of an activist with the unblinking eye of a truth-teller, John Flynn's music speaks deeply to the heart and the spirit. A wordsmith and poet of rare clarity, he evokes our shared humanity as he addresses the times we live in through songs that resound with awareness, irony, humor and compassion.
"Every song I write always feels like my first," Flynn says of the trade he's practiced for more than three decades. 'I guess that's why I love it so much. It's almost like that Buddhist concept of the beginner's mind. Each song challenges you to seek and see new possibilities. Maybe that's where the album title came from. After all these years, I feel like I'm just getting warmed up."