Local News
Texas rural hospitals are tech innovators for community-wide healthcare
Jan 29, 2014
Patients are the winners
when electronic records coordinate healthcare
Bonham, Texas, January 15, 2014 – How can a 25-bed hospital in rural Bonham lead the way in technology to improve ways to serve patients?
It's not easy, but it's possible for any Texas hospital to take a leap forward to use electronic health records as an innovative tool to improve care across an entire community, says the CEO of Red River Regional Hospital in Bonham, population 10,000.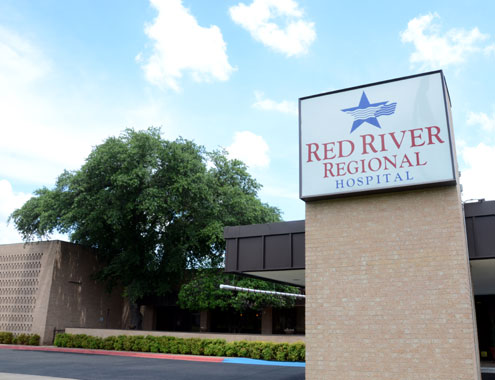 "Manual records don't cut it anymore. Physicians and healthcare professionals in hospitals, clinics and long-term care facilities must have immediate access to the health record of every patient in order to provide the highest level of care," says Red River Regional Hospital CEO David Conejo.
Conejo ought to know. His hospital was awarded the 2013 Rural Hospital Information Technology Award of Excellence by the non-profit Texas Organization of Rural and Community Hospitals. Only hospitals that have demonstrated successful adoption and meaningful use of a certified electronic health record (EHR) are eligible for the award.
"We are building a complete electronic Health Information Exchange in our community, which expedites patient care, saves time, improves safety and reduces the unnecessary readmission of patients," Conejo said.
"The technology enables a complete continuum of care in a community," he said.
According to the hospital's information systems director, David Odom, "We are on the front edge of this innovative technology. As a rural community, we have the advantage of having close working relationships with every facet of healthcare in our area, resulting in cooperation and coordination with electronic health records across the entire spectrum of healthcare in our region.
"While it's a significant undertaking for a hospital to innovate its technology infrastructure, everybody in the pipeline benefits – the hospital, clinics, care facilities and especially patients," Odom said.
The hospital also installed a wireless system so that 13 Workstations on Wheels – or WOWs – can enable immediate staff communication and record sharing.
Conejo says the hospital couldn't have done it alone, pointing out that "strong support from our technology provider, Healthland Inc., was an important element in our success with this project."
Conejo pointed out that rural Texas hospitals have access to the same sophisticated information technologies that big, urban medical institutions have.
He said, "Those of us in smaller hospitals actually have an advantage in creating electronic health record systems to benefit our patients. We have excellent cooperation and relationships both within our hospitals and among the healthcare providers in our communities to boost innovations from concept to reality."
Electronic decision support systems are all about the patient, according to the hospital's Chief Clinical Officer, William Kiefer.
"The patient sees the benefit of streamlined care, removing the bottlenecks and building in safety precautions throughout the system," Keifer said.
Efficiency, effectiveness and safety will be the wave of the future in healthcare, says Conejo, and "Texas rural hospitals are innovating their way to lead the pack."