Front Page
Samuel A. Roberts and the Civil War
Jan 15, 2014
As the 1850s rolled into the year 1860, it became clear that the country was sharply divided, politically speaking, and was perhaps headed towards civil war. The election of Abraham Lincoln as President sealed the deal. For southerners, Lincoln in the White House was simply unacceptable, and by late April 1861 eleven states had seceded from the Union.
A couple of months earlier Samuel A. Roberts' former West Point classmate, Jefferson Davis, took the oath of office to be the leader of the new country, the Confederate States of America.
According to family research records, it wasn't long before Davis appointed Roberts an assistant adjutant general, basically an administrative position, in the Confederate Army. Civil War records indicate the same. For example, The Papers of Jefferson Davis (LSU Press) contains a general description of a letter, from Roberts to Davis, dated April 2, 1862, which mentions Roberts being named "assistant adjutant general" and tells Davis of the disorganized nature of cavalry recruiting in Texas. The description reads:
From Samuel A. Roberts . . . West Point classmate writes from Bonham, Texas, complaining that his efforts to raise five cavalry regiments have been stymied by others' recruiting mounted units; was assured, when commissioned assistant adjutant general, that his would be the only cavalry regiments received from Texas; without an organized recruiting policy, state volunteers have 'gone off – helter-skelter, mounted on every description of animal, and generally for a short term of service'; also requests instructions and funds to procure food and supplies; has had no answer to repeated letters to War Department . . . .
Moreover, in a letter to Confederate Secretary of War George W. Randolph, dated December 8, 1862, and sent from Bonham, Roberts signed off as "Lt. Col & A. A. G."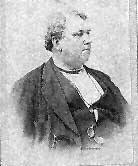 A couple of months earlier, Roberts was introduced by mail to Secretary Randolph by President Davis. In his letter, dated October 23, Davis wrote: "This will introduce to you Col. [Samuel A.] Roberts of Texas who will explain to you some important matters connected with the service in the Indian Country, and of which I will subsequently confer with you." Of Roberts, Davis wrote: "An acquaintance of many years enables me to speak confidently of Col. Roberts as a true and reliable gentleman. Commending him to your polite attention."

(Sources note that copies of correspondence between Roberts and Davis are on file with the National Archives.)

It is possible that Roberts was mailing all of his war-related correspondence from the camp bearing his name. The Texas State Handbook notes that Camp Roberts, "the training camp for Confederate soldiers at Bonham," was named for Samuel A. Roberts.

In August 1863 Union forces in the Indian Territory were steadily pushing south, making Confederate forces in north Texas understandably nervous. On August 26, Union soldiers under the command of Maj. Gen. James Blunt routed Confederate forces at the supply depot in Perryville (roughly south of present-day McAlester, Oklahoma).

In response, Confederate Brig. General S. P. Bankhead set out to reinforce rebel forces in that area. He called on Col. Roberts at Bonham to be ready to help him. Roberts detailed the whole affair in a letter, dated August 29, sent to a Captain Edmund P. Turner, Assistant Adjutant General in Houston, advising him:
At a very early hour on the 28th, I received a dispatch from General Bankhead, informing me that the enemy was driving General Steele before him, and that General S. had fallen back to Perryville . . . and urging me to cooperate with him, General Bankhead, in every way I could to strengthen and subsist his army. I immediately issued an order . . . directing the majors of five different battalions to hold one company in readiness to march at a moment's notice. This order was sent to each battalion yesterday morning by express, and reached them last night. I have ordered the ordnance officer here to have every gun, of every description, put in order for immediate use, cartridges prepared, &c. I have also taken measures to secure all the ferry-boats on Red River.
It seems doubtful that "every gun" could have been "put in order for immediate use . . . ." Towards the end of the letter, Roberts noted that most of the arms at the Bonham post were "unfit for use," and that many could "never be rendered serviceable." He further noted: "State troops are entirely without arms . . . ." In a final plea, he wrote: "If a few stand of arms could be sent to this command, they would be of great benefit."
In the opening paragraph of his letter to Captain Turner, Roberts noted that he had "assumed command of the Northern Sub-District on the morning of the 28th (yesterday)." Whether to his relief or dismay, his time in that position was very brief. Also on the 29th came a special order, from the "Headquarters District of Texas," placing Brig. Gen. H. E. McCulloch in "command of the Northern Sub-District of Texas, with headquarters at Bonham."
Perhaps reflective of his new position, in a subsequent document, dated September 30, 1863, Roberts signed off simply as "Lt. Col., Comndng Post Bonham." Maybe by "Post Bonham" he was referring to Camp Roberts.
It seems safe to assume that Roberts' service in the Civil War kept him in the North Texas area and close to home most of the time. One general description notes that he "was colonel of the 14th Brigade, TX State Troops, which later became part of the 34th Cavalry/2nd TX Squadron."
If the Confederacy's eventual loss to the Union in 1865 was a sad event for Samuel Roberts, it was overshadowed by the fact that his wife, Lucinda, died the same year. However, personal sorrow on this level was nothing new. From the early 1840s to the early 1850s, he and Lucinda lost three children, a daughter named Florence, and two sons, Samuel Jr. and Clarence.
With the war over and his wife gone, it was time for Samuel A. Roberts to re-focus on his law practice and enjoy the company of his surviving child, a sixteen-year-old daughter named Mary.
Tim Davis teaches at Bonham High School.
Next: Samuel A. Roberts' Final Years
Previous Samuel A. Roberts articles:
http://www.ntxe-news.com/artman/publish/article_87360.shtml
http://www.ntxe-news.com/artman/publish/article_87361.shtml