Front Page
Local veterans entertained by Mark Twain and music
Jan 13, 2014
Bonham -- It was an afternoon filled with the legendary wit of Mark Twain and poignant original ballads as veterans at Clyde W. Cosper Texas State Veterans Home were entertained December 11 by the talented duo of Jerry Biggs and R.D. Foster.
Biggs is best known for securing a role in the epic Western drama Lonesome Dove, however the McKinney native has also been featured in Academy Award nominated and winning films such as Tender Mercies and Silverado. He also played pop diva Mariah Carey's boss in Tennessee and was in the Texas feature film Bernie, along with Jack Black, Matthew McConaughey and Hollywood icon Shirley MacLaine.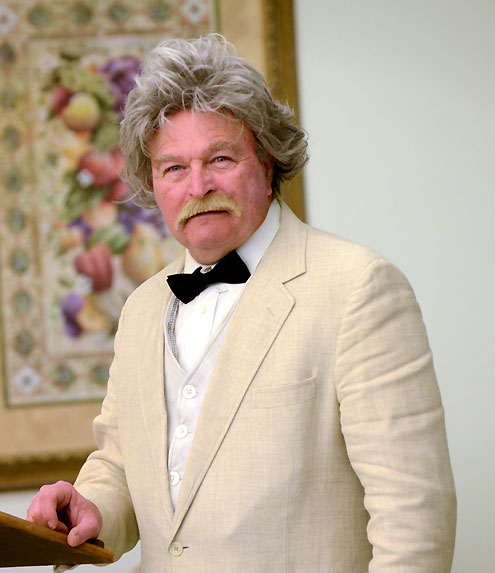 Jerry Biggs as Mark Twain
But on this day Biggs was immersed in the character of Mark Twain, a man often called the greatest American humorist of his time and a brilliant writer that William Faulkner called "the father of American literature."
"I was born modest," Biggs quoted Twain as saying," but it wore off."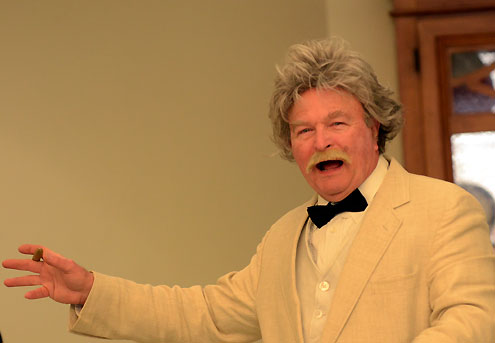 Biggs not only looks the part; he captures the essence of the spirited, mischievous style that was unique to Twain.
The audience in Bonham relished dozens of Twain quotes, such as, "I am opposed to millionaires, but it would be dangerous to offer me the position," and "the only reason God created man is because he was disappointed with the monkey."
Famous for his vices, Twain loved a good smoke, a stout drink and fine clothes.
"Clothes make the man," Biggs said, recalling another notable Twain quote. "Naked people have little or no influence on society."
The show at Clyde Cosper State Veterans Home was opened by singer/songwriter R.D. Foster.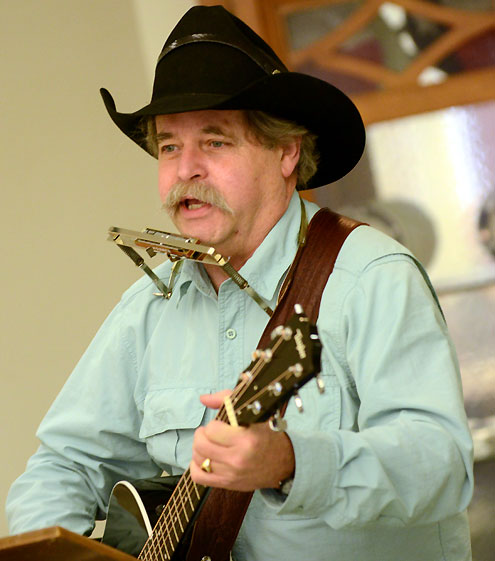 R.D. Foster
A 1966 graduate of McKinney High School -- a class that was hit particularly hard by several fatalities in Vietnam -- Foster is an accomplished lyricist and guitarist who manages to toss in a few harmonica riffs in his spare time. His music is an honest reflection of a generation sorely tested by a difficult war on a distant shore.
Foster's tribute to a larger-than-life McKinney boy who ended up giving his life for his country, "Guys like James Malone," was a heart-felt gem. Other originals the crowd enjoyed were "Texas boy," "Cowboy's Life" and "Blood on the Sand."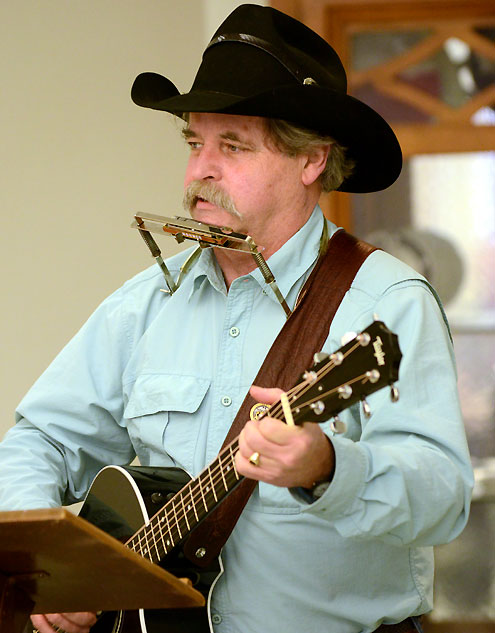 If you missed the performance by Biggs and Foster, stay tuned; there is a good chance the McKinney natives will be back in Bonham soon.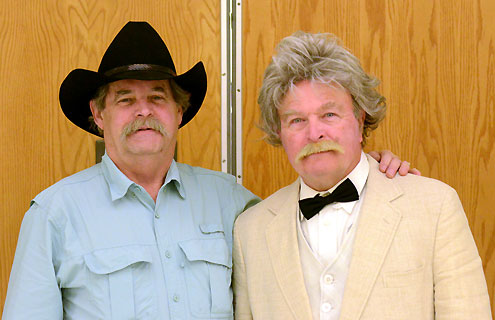 (L-R) R.D. Foster and Jerry Biggs