Front Page
Reporter Mickey Carroll featured at Sixth Floor Museum on Saturday
Jan 11, 2014
The Sixth Floor Museum launches 2014 Living History Series with Maurice "Mickey" Carroll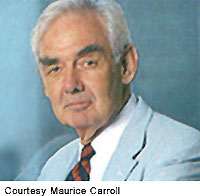 DALLAS, TX – January 10, 2014: The Sixth Floor Museum at Dealey Plaza kicked off its 2014 Living History Series on Friday with a lively conversation with Maurice "Mickey" Carroll, a reporter for the New York Herald Tribune in 1963. Carroll covered the scene at Dallas police headquarters and witnessed the shooting of Lee Harvey Oswald. He also covered the Jack Ruby trial and co-wrote attorney Melvin Belli's Dallas Justice (1964).

Visitors have a second opportunity to hear Carroll on Saturday, January 11, at 2 p.m. on the Museum's seventh floor. Admission is $10 for the program only or $5 with Museum admission. Advance tickets are available at www.jfk.org.

The Living History Series links the past to the present through firsthand accounts from reporters, law enforcement officials, musicians and everyday citizens who witnessed the assassination or other historic events of the early 1960s. Each presenter in the monthly series has contributed to The Sixth Floor Museum's ongoing Oral History Project. The collection includes more than 1,200 candid, informal interviews that recount the life and death of President John F. Kennedy, the history and culture of Dallas, and the 1960s.

The Sixth Floor Museum is located at 411 Elm Street in Dallas' Historic West End. For more information, go to www.jfk.org or call 214.747.6660.