Entertainment
Dallas vocalist to shine at MLK Celebration, Austin College, Jan 20
Jan 20, 2014
Community Martin Luther King celebration upcoming
SHERMAN, TEXAS—The tenth annual Grayson County Martin Luther King, Jr., Day Community Celebration Breakfast will be held at 7:30 a.m. Monday, January 20, in Mabee Hall of the Robert J. and Mary Wright Campus Center at Austin College. Grayson County Rotary groups and Austin College co-sponsor the event. Members of the community may attend at a cost of $15 per person, payable at the door.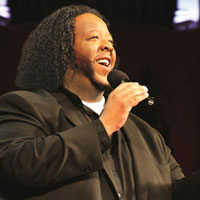 The keynote speaker for the event will be Keron L. Jackson, a musician, actor, and evangelist who has performed in opera houses, national singing competitions, conventions, and theatres. Jackson is also a motivational speaker and is currently writing his first book, Unlearning What My Parents Taught Me.

Jackson has performed in many dramatic and musical stage productions, including Moby Dick, Showboat, Cotton Patch Gospel, Side Show, Big River, A Christmas Carol, Handel's Messiah, Gershwin's Porgy and Bess, and Roberto Devereux. He has been the Grand Winner of the Bel Canto Aria Competition among other prestigious singing competitions.

Additionally, Jackson performed "The Star-Spangled Banner" at the investiture services of Priscilla Owen and Jennifer Walker Elrod, nominees to the Fifth Circuit Court of Appeals. Jackson has also spoken and performed at the Moody Bible Institute in Chicago, Baylor University Bible Conferences, Park Cities Baptist Church, the 2010 Baptist General Convention, and other spiritually oriented establishments.

Dr. Marjorie Hass, president of Austin College, will welcome guests. Senior Tiffany Collins of Garland, Texas will provide a student address. The Sherman Federated Choirs, led by Priscilla Mask, will provide special music.

Austin College is a leading national independent liberal arts college located north of Dallas in Sherman, Texas. Founded in 1849, making it the oldest institution of higher education in Texas operating under original charter and name, the college is related by covenant to the Presbyterian Church (USA). Recognized nationally for academic excellence in the areas of international education, pre-professional training, and leadership studies, Austin College is one of 40 schools profiled in Loren Pope's influential book Colleges That Change Lives.